ITU suggests replaceable cables for power supplies
Standards body hopes to reduce e-waste, match connectors with voltages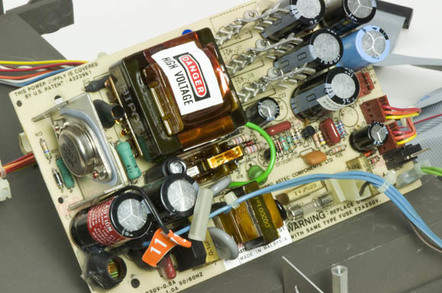 The International Telecommunications Union (ITU) has kicked off its Green Standards Week with a proposal for the world to standardise the power supply units (PSUs) provided with devices like mobile phones and laptop computers.
One of the standards the ITU proposes would see the ubiquitous devices equipped with replaceable cables, because after testing more than 300 PSUs the organisation found the main reason for their failure "is a weak point where the low-voltage cable is connected to the power supply."
The idea for replaceable cables may seem trivial until you consider the ITU's estimates that four billion PSUs will be summoned into existence this year alone and will collectively weigh one million tons. The organisation predicts that PSU numbers will grow by 12 per cent a year for the foreseeable future. After testing 300 PSUs the Union also found that "The main cause of failure in all power supplies " A new design standard featuring "a detachable, replaceable cable on the low-voltage side of the device" is therefore recommended as a way to avoid a lot of PSU purchases, saving rather a lot of landfill along the way.
That's not all the ITU wants. Indeed, the organisation has managed to crank out 105 pages on the topic of An energy-aware survey on ICT device power supplies (PDF) that recommends proper standards be developed to replace the de facto standards currently in force.
The standards the ITU wants will, it says, reduce the materials required to build a PSU by 30% and, by reducing obsolescence of PSUs, prevent 300,000 tons of discarded power supplies becoming e-waste each year.
The ideas the ITU thinks will help to achieve that outcome include:
New connectors sized by output voltages, to help punters understand which PSU powers different devices;
More accurate labelling of PSUs' output;
Smaller size and lighter weights, to reduce resource use, shipping costs and improve products for users;
Increased power efficiency, as a response to ITU testing that found many PSUs provide too much power or continue to power devices when they are switched off;
Standardized plugs with two prongs only.
Just where these ideas go from here is not clear, as the ITU has no power to compel manufacturers to adopt a new standard. Indeed, the report politely asks manufacturers to consider the issues it raises. The organisation can, however, point to some success from its past campaign for a standard mobile phone charger. ®
Sponsored: Detecting cyber attacks as a small to medium business