Apple iOS 6 review
200 new features, but you'd never know it
Review OK, so when iOS 6 arrives in an hour or so, you'll rush to download it no matter what. You may as well, it's free, especially if you're not using any old apps that might warrant compatibility fears.
Apple has promised the new operating system delivers more than 200 new features, but the vast majority of those aren't user-facing. Only a handful or so are, so I'll focus on those.
The main UI remains largely unchanged, though freshly downloaded apps now sport a 'New' sash until they're run for the first time. The now standard dock, folders and pages remain, but I'd have liked to have seen the ability to arrange icons with gaps, the way I can with Android Jelly Bean.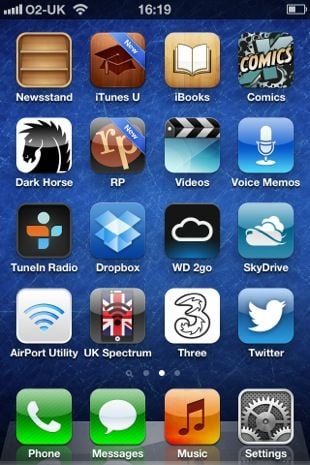 New downloads are now highlighted as such; and the various stores get a new, consistent UI
Apple has reserved aesthetic changes for the bundled apps. Maps, which I'll come to in a moment, is new, but even existing ones, such as Weather and Stocks, come with subtle graphical changes, though no new functionality. Music now has a white UI, to match the one it's had on the iPad for a while.
Likewise, iTunes and App Store have a new layout, as does the Store screen in iBooks. The change is neither good nor bad; it's no easier nor harder to find and buy, but there is at least consistency across all of the shops. Incidentally, app updates no longer require you to re-enter your password, sensibly so since you do don't pay for updates.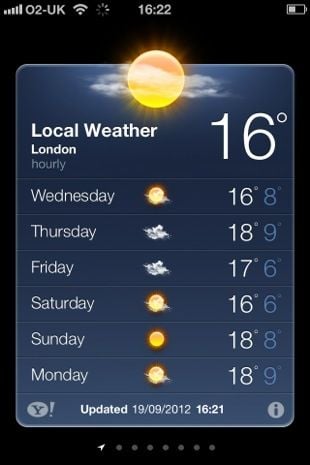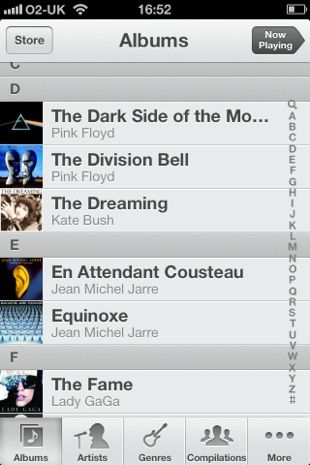 Subtle graphical tweaks for the Weather and Music apps
The irritating Newsstand remains. Why do magazine apps need to be kept separately from other types? They don't, it's just Apple came too late to the periodicals business to force everyone to sell through an 'iMags' app, so instead it corrals many of them into Newsstand. I like having certain periodicals right there on my iPad's home page. Come to think of it, I should be able to have albums, videos and books likewise, for easy access.
Apple's decision to drop Google's tech from Maps and replace it with a version of its own doesn't bother me per se, but iOS 6 doesn't deliver the same user experience as iOS 5 did. Maps is an attractive looking app that delivers the same broad functionality - satellite photography, route planning and such - as Google's alternative, but knows about far fewer places of interest.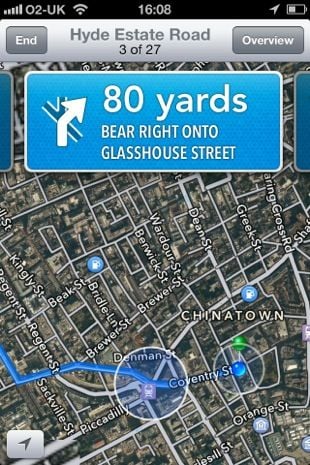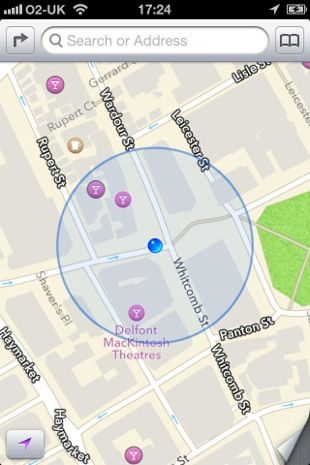 Maps' route-planning and new-look map view
Searching for a number of sites I've found before using Google failed to appear in the Apple app, which makes it inherently less useful, whether you're after a nearby eaterie, you're planning a route or you're using the satnav mode. Nice touch: you can review the directions simply by swiping the current direction panel to the left.
My device isn't powerful enough to present the new 3D landscape view, Flyover, but that's a gimmick unless you're a microlight pilot. In fact, all it is are 2D images mapped onto a 3D grid rather than a 2D one, with, in some cases, 3D building models added. Forget it. I'd rather have Google's StreetView and POI database. It's satellite snaps seem more detailed too.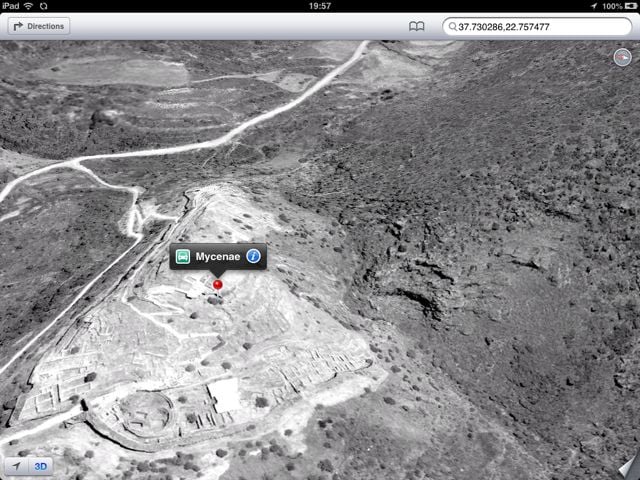 Hmmm... Google's maps - even in 3D - aren't monochrome
Siri, on the other hand, gains some extra knowledge of UK venues, specifically cinemas and restaurants. It'll do sports results too, apparently. FaceTime, Apple's brand of video conferencing, now works over cellular connections, not just Wi-Fi.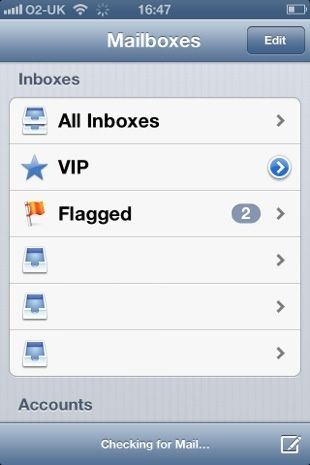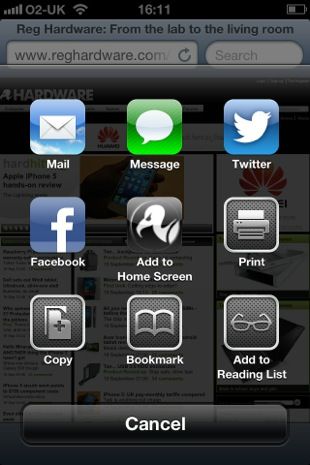 Mail gets a favourite-contact filter; and Facebook sharing goes system wide
Facebook accounts can be entered once and then accessed, with your permission, by other apps, so you can post through them. Mail has a VIP mailbox - it holds messages from favourite folk, though not necessarily the same ones as your Favourites in the Phone app. It's handy if you don't want messages from certain people getting lost among all the rest.
Usefully for us Mac folk, VIPs sync over iCloud, so add one here and it'll appear in Mac OS X Mail's own VIP list.
iCloud also powers Safari's new browser tab sync feature: you can see on any device what tabs you had open on your other devices. Useful if you frequently swap between phone, iPad and Mac screens. Safari can keep pages filed in your Reading List - a new use for old-style printer-friendly layouts - for offline reading. It also has a full-screen mode when in landscape orientation.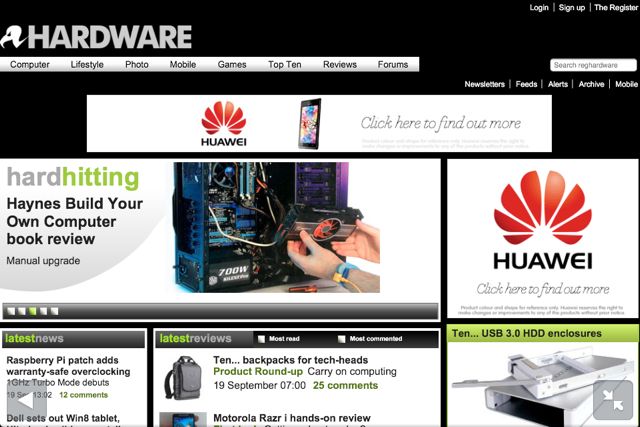 Safari goes full screen
PhotoStream cloud-mediated photo libraries can now be shared with friends and family. I'd like to try the camera's new panorama mode but, again, my hardware's not up to it - you need an iPhone 4S or later.
Still, these are all welcome improvements, though they're nothing special. Passbook, on the other hand, has the potential to be very special, but it's dependent on airlines, cinemas, theatres, shops and other businesses supporting it.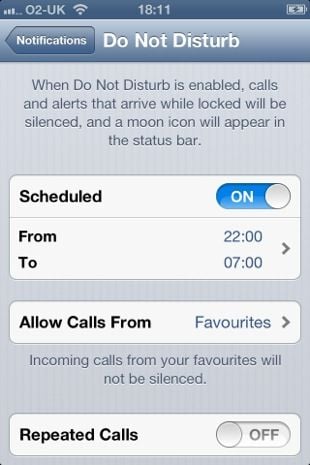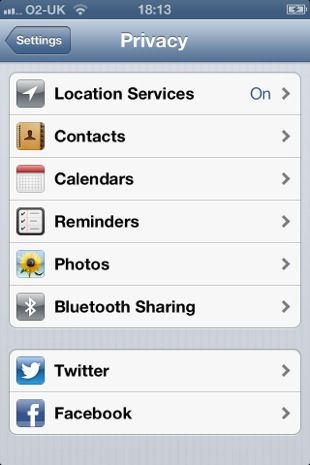 Don't bother me - and guard my privacy
At least the platform is there, and I can see this becoming incredibly handy over time. Especially when the iPhone gets NFC as it almost certainly will next year. By then sellers will be not only supporting Passbook, but will have begun building an NFC service infrastructure the iPhone can use.
The handset has long had a mute switch on the side, which renders iOS 6's Do Not Disturb function rather redundant, unless you make use of DND's scheduler. DND silences incoming calls, either while its switched on or at specific times. You can allow calls from your Favourite contacts, everyone or no one.
It sits somewhere between Airplane mode - the phone doesn't work - and the mute switch, which silences all calls. If you just want a short period of silence - you're at dinner, say - the side switch saves you navigating to the Settings app, where DND lives. But DND's scheduling - phone silent all day at work, or overnight - will appeal to some users.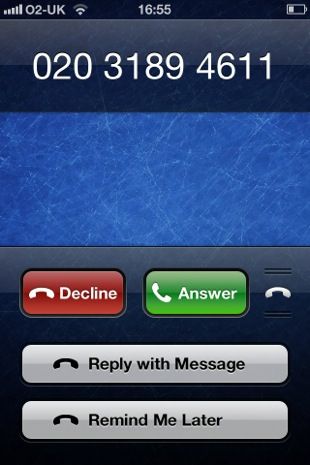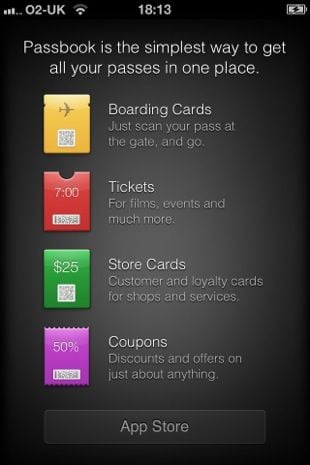 New call handling options will be useful immediately; Passbook may take longer to prove its value
Likewise the lock screen's new call-handling controls: when a call comes in, a phone icon appears alongside the 'slide to answer' control. Drag the icon up the screen, and further controls appear: to decline the call, to reply with a text message or add a reminder to call back.
Finally, iPads get a Clock app. And for those missing the iPhone's Stocks app - it hasn't been ported, but stocks - but not weather, alas - appear in the notification panel.
Again, all handy stuff, but nothing groundbreaking, beyond Passbook - and that may yet prove a damp squib. Maps likewise if Apple doesn't work hard to improve the POI database behind it. Indeed, if mapping is really important to you, you may want to hold off.
iOS 6? More like iOS 5.5. ®