Win8 tablets may cost MORE than iPads – AND LAPTOPS
Leaked slide shows $599 and up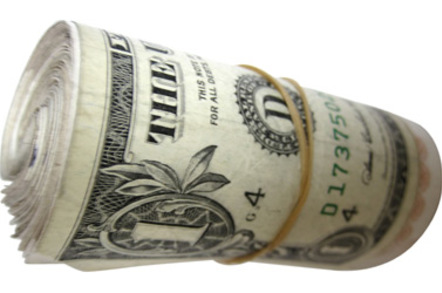 Microsoft has predicted that Windows 8 and Windows RT will usher in a new era of touch-based computing, but if leaked pricing from Asus is anything to go by, customers will have to pay a pretty penny to share in Redmond's vision.
Although PC makers have been busy readying a range of tablets and laptops with touchscreens in advance of the Windows 8 launch, most have been tight-lipped about pricing. But a slide from an Asus presentation leaked to ZDNet indicates that its upcoming Windows tablets may cost more than most current laptops – and in some cases, much more.
The slide shows three tablet models: two designed for full Windows 8 and one that runs Windows RT, Microsoft's more limited version of the OS for devices with ARM processors.
The Windows RT model is called the Vivo Tab RT (TF600T). From a press release issued in August, we knew that it's based on a quad-core Tegra 3 processor, has a 10.1-inch Super IPS+ display at 1366x768 resolution, and ships with 2GB RAM and 32GB storage. What we didn't know is that those specs will cost $599.
That's sure to be a tough sale. The buy-in for Apple's most recent iPad is just $499, and older models go for even less. It seems doubtful that many customers would be willing to pay more for a device running a brand-new Microsoft platform when they could go with the product that has already captured nearly 70 per cent of the market.
Then again, some analysts have suggested that Windows tablets will be hot sellers because you can run Microsoft Office on them. Like other Windows RT devices, Asus' Vivo Tab RT will come bundled with Microsoft Office Home & Student 2013 RT.
But hold on! Nobody is going to do any serious document editing with a touchscreen. To make the most of Office on the Vivo Tab RT, you'll want the mobile dock, which includes a physical keyboard. That will set you back another $199, according to the leaked slide, bringing the total cost of this ARM-based tablet to $798.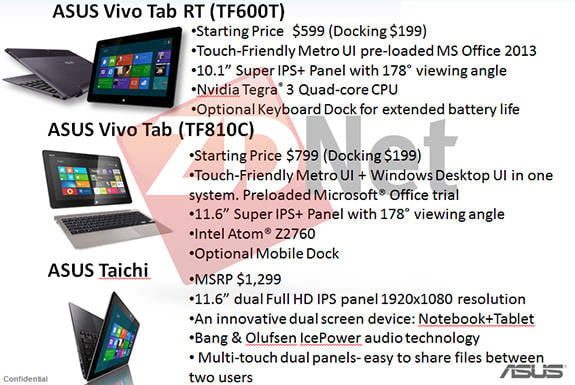 Yikes! A Windows 8 tablet with keyboard could cost $998 (Source: ZDNet)
If you want the full power of Windows 8, you'll need to step up to the Asus Vivo Tab (TF810C). This model has slightly better specs, with an Atom Z2760 processor, an 11.6-inch display that supports a Wacom pen digitizer (albeit still at 1366x768), 2GB RAM, and 64GB storage. For those upgrades, however, you'll pay $799, or $998 with the keyboard dock.
But the most boggling item on Asus' slide is a device called the Taichi. We aren't told much about its specs, except that it has an "innovative" dual-screen 11.6-inch IPS panel running at 1920x1080. Open the clamshell, and you can use the Taichi like a laptop. Close it, and the screen on the other side of the lid acts as a tablet. For this, you'll pay $1,299.
Here at El Reg, we think these prices sound a little crazy. A quick trip over to Dell's website reveals that an entry-level Windows 7 laptop can be had today for just $399. It comes with an Intel Core processor – not an Atom – a bigger screen, more RAM, a hefty hard disk, and a DVD drive.
The one thing it doesn't have is a touchscreen. But expecting consumers to pay double the price for an underpowered tablet just to make Windows 8 less of a nuisance seems like a poor sales strategy.
Still, the Vivo Tab RT's $599 price tag lands smack dab in the middle of what Microsoft CEO Steve Ballmer called the pricing "sweet spot" for Redmond's Windows RT–based Surface tablets, making early speculation that these devices would be priced to compete with low-cost Android tablets like the Nexus 7 seem even less likely.
In fact, based on Ballmer's comments, Asus' leaked slide looks like a good indication of how other manufacturers will price their Windows RT and Windows 8 devices. If that's the case, customers who are looking forward to Windows 8 could be in for a hefty dose of sticker shock, come the holidays. ®
Sponsored: Detecting cyber attacks as a small to medium business