Wobbly swipe reader Square gulps down another $200m
Web 2.0 sweetheart now valued at $3.25bn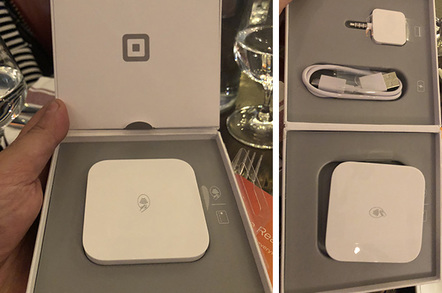 Beloved son of the Twitterati Square has swallowed another $200m in VC cash, apparently pegging the company at a value of $3.25bn.
Square didn't invent credit card readers of course, neither did it create the first card terminal on an iPhone, but it does have Twitter-founder Jack Dorsey's name attached, and the tacit approval of Apple (from whose stores one can buy the free card reader), which is enough to rise more than $300m in VC cash and land $25m in a deal with Starbucks.
The Round D funding comes from Citi Ventures, Rizvi Traverse Management and none other than the Starbucks Coffee Company, among others, and the company has admitted it totals more than $200m. Quite how much equity the investors got isn't clear; that $3.25bn valuation (which is calculated from the equity) comes from AllThingsD and the usual "sources familiar with the deal", but given the size of the investment it's not impossible.
When Square was processing $1m a week we calculated it could pay back its investment in just 480 years, but now the company claims to be processing $8bn every year so that number drops significantly. This is despite the additional investment and increased staffing costs - we're told there are 400 people working for Square these days - but given those numbers we're wondering why the additional VC cash is needed at all.
Much of the money will be spent getting the tablet offering tidied up, but mostly it will go on advertising, which is becoming increasingly important as the competition gets into gear.
VeriFone's Sail alternative has, arguably, better security but also the backing of the market leader in terminal hardware, though that legacy may also work against it. Last week we also saw the launch of the TazPad 2 - an Android tablet specifically aimed at the cash-register market, complete with secure element for processing NFC transactions.
Square apparently has international aspirations, which the cash will help fund, but at the moment the company's product is still linked to the magnetic stripe, which has become redundant in much of the world if not the USA. Square has tried to broaden its offering, including coffee-shop CRM based on facial recognition, which is important as European retailers are unlikely to be wowed by a swipe-card reader, even if it is plugged into an iPhone and comes from the founder of Twitter. ®