Motorola Razr i hands-on review
Cutting edge-to-edge?
First look Motorola Mobility's launched its first Intel-based smartphone today and I've been playing with it ahead of its release this October.
The compact beauty - which continues with the company's Kevlar-backed design - features a 4.3in 'edge-to-edge' OLED display and it's easy to see why this is one of the Razr i's major talking points.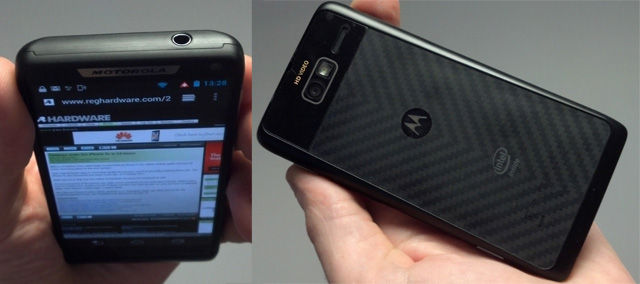 While it fails to eliminate the bezel completely, the handset packs a display identical to the Razr, albeit in a compact body that sits more comfortably in the hand. The company was quick to point out that the screen is larger than the iPhone 5, although at 960 x 540 pixels, it has a lower resolution and pixel density than the Apple's 1136 x 640.
Still, that it does impress. I've been using the Razr Maxx since it was first announced and have never been disappointed by its display. However, complemented by a far sexier body this time around, the screen is all the more impressive. It certainly feels more responsive too.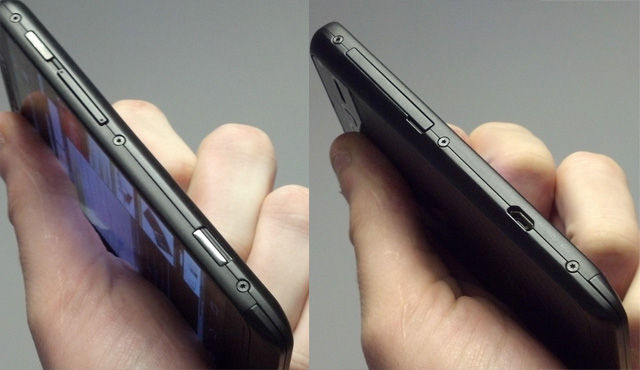 Perhaps this is a result of the second major talking point: the single-core Intel Atom Z2460 processor, touted to be the first mobile chip capable of reaching 2GHz processing speeds.
Intel claims its HyperThreading tech makes the processor far more efficient that its rivals, so I ran the standard AnTuTu benchmark test on the "beta" handset I was given, to see how close to the mark those claims were.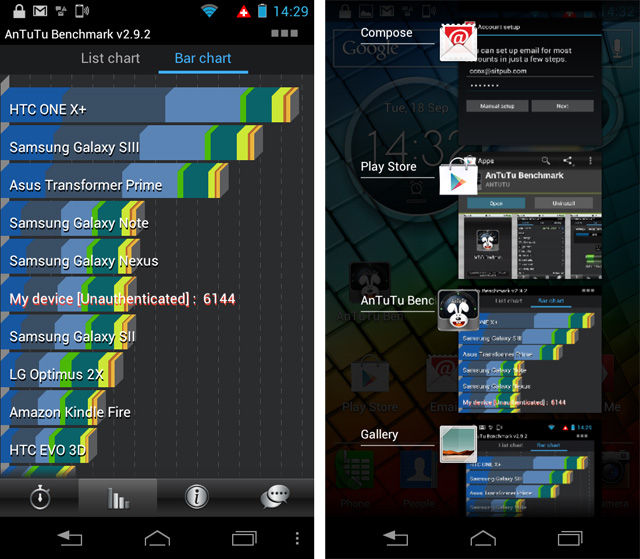 As you can see, for a mid-range blower it does a mighty fine job. Navigation is instantaneous, opening apps feels faster than ever, and browsing the web is a smooth, streamlined experience over Wi-Fi.
Another stand-out feature is the Razr i's 8Mp camera, which again feels faster in operation than previous Razr cameras. There are fewer scene modes available, with the omission of macro mode particularly noticeable, but the camera itself is far more responsive; generates a brighter, sharper picture; and is easier to use.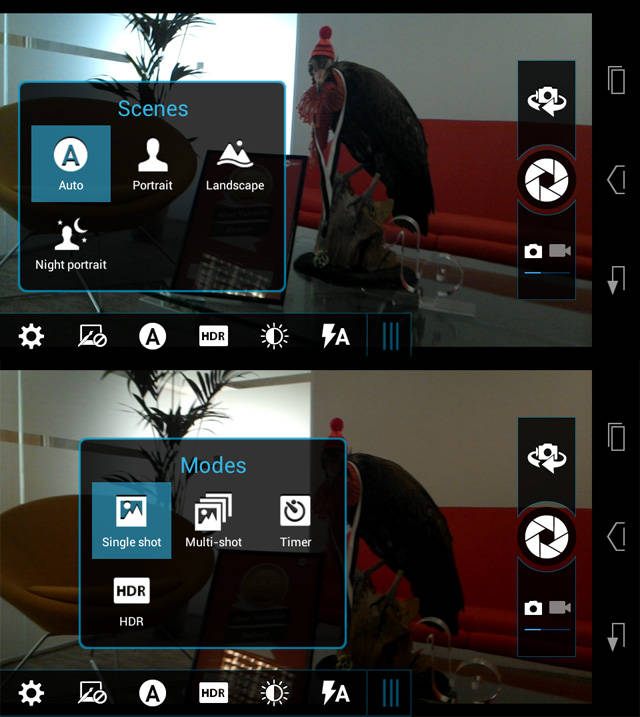 A dedicated camera button snaps things into action within a second, taking bursts of ten photos so quickly that the company claims it's faster than a standard DSLR.
After being somewhat disappointed by my Razr Maxx's lacklustre image capture, it's nice to see Moto make the necessary improvements to bring this boy up to speed.
The addition of High Dynamic Range (HDR) technology makes more of snaps in iffy lighting conditions, and there's even the ability to take stills while the phone records HD video.
Display, chippery and camera tech aside, the next most important feature is battery life. The phone's 2000mAh pack is claimed to squeeze out 20 hours of use, and it'll be intriguing to see if it can truly last the entire day as intended, particularly if I spend a couple hours playing games on the train home.
Intel insists its processor is so quick to shut down when not in use, though, that being caught out with low battery is an unlikely event.
Of course, if users are clever with Motorola's juice-preserving SmartActions mode then they certainly shouldn't have issues. This can be accessed easily through the company's latest UI, customised over an Android 4.0 Ice Cream Sandwich build. A Motorola spokesman told me that a Jelly Bean update is on the way but, as usual, the company is not saying precisely when.
Motorola's UI sits interactive circles on the homepage, allowing users to 'coin-flip' between various notifications, such as weather, time and battery status.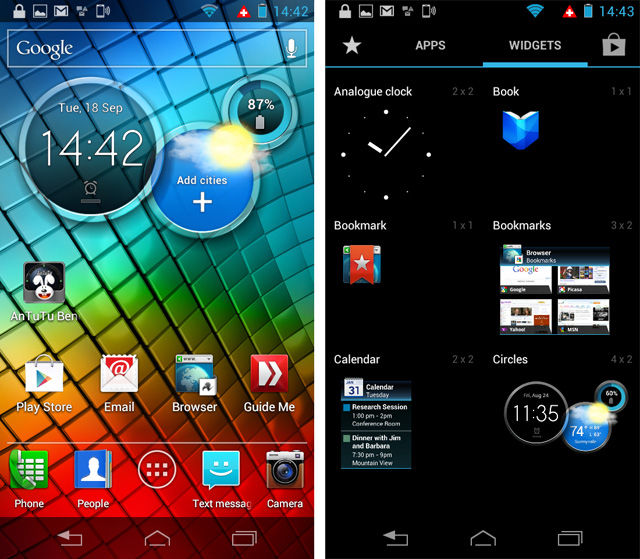 In terms of storage, the Razr i comes with either 8GB, 16GB or 32GB capacities, although things can be extended further through the Micro SD slot beside the Micro Sim port. Both sit under a thin, fingernail-lifted flap
Overall, the phone looks slick, is well constructed and, unlike the Razr Maxx, is easily opened for any maintenance it may need. It does appear a tad old-fashioned and seen-it-all before, though.
Still, the size is a serious plus point and it is certainly one of the greatest handsets I've seen from Motorola in a long time. Of course, you'll have to wait for a full review in due course for our final opinion.
The Motorola Razr i will hit shelves in early October with Orange, T-Mobile, Phones4U, Virgin Media and Tesco named as official partners.
We've already heard Clove will sell the Razr i unlocked for £342. Whether such a low price is the result of Moto's new partnership with Intel, or some as-yet-unspotted corner cutting, remains to be seen, but at that price, the Razr i appears to be excellent value for money and as first impressions go, well worth consideration. ®
Sponsored: Becoming a Pragmatic Security Leader