Job-hunting honeybees rely on 'meth' to find work
Workers nurse or forage by brain chemistry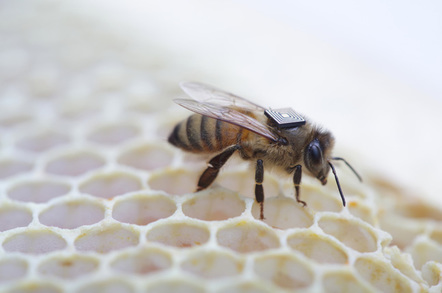 Pic Honeybees have no choice about what career they'd like: their destiny is hardwired into their genes - much like Fry in Futurama, who wakes up from cryogenic storage to be assigned a job based on his capabilities.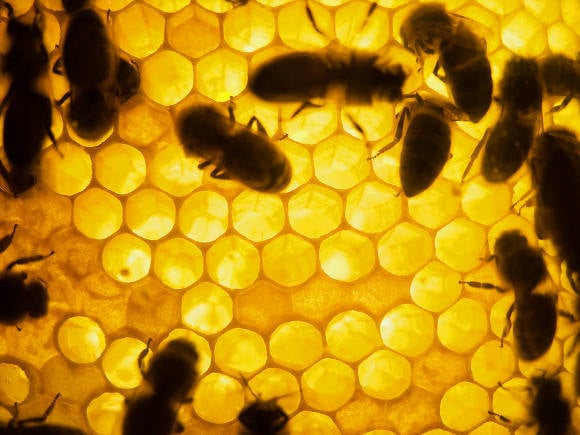 The hapless honeybee only has two possible professions. It can go forth and forage - a varied work life that includes finding nectar and then doing a complicated dance to tell other bees where it is - or it can stay at home to nurse the queen bee, feed the larvae kids and groom her maj.
But even these sparse choices aren't made by the actual insects; instead chemicals that interact with their genes tell the bumbling bees what they'll be doing.
The whole hive of honeybees are genetically identical sisters, but some get all the royal jelly and grow to be fat egg-laying queens and the rest end up as worker bees, so they can stay at home or set off to look for nectar and pollen.
Although the genes are the same, different sisters have different chemical tags on their genes and if they were lucky enough to switch careers, their genetic tags changed too in a pattern known as an epigenetic state.
It's basically down to meth - DNA methylation, that is - a "tagging" process that has long been known to play an important role in the biology of animals, including in what kind of job cells do when they are created. But now boffins have figured out that epigenetics - environmental factors acting upon one's genes - can change behaviour too.
The researchers from John Hopkins and Arizona State University put bees that were all the same age into a hive, to ensure no other factor figure in their job allocation. They then analysed the patterns of chemicals in the brains of 21 nurses and 21 foragers, finding that 155 regions of the DNA were different.
Those chemicals can also be changed, so older bees can revert to being nurses if there's not enough youngsters to do the job. If that happens, 107 DNA regions show different tags, suggesting that the epigenetic marks are temporary and can be reversed.
When the researchers removed the nurses from the hive, some of the foragers were forced to change roles, and the chemical profiles of those bees who swapped jobs also changed to fit their new position.
"It's like one of those pictures that portray two different images depending on your angle of view," said bee expert Gro Amdam, associate professor of life sciences at Arizona State University and the Norwegian University of Life Sciences.
"The bee genome contains images of both nurses and foragers. The tags on the DNA give the brain its coordinates so that it knows what kind of behaviour to project."
The boffins reckon that understanding reversible epigenetics could help with learning, memory, stress response and mood disorders in people, which are also caused by chemical interactions with genes.
The research was published in Nature Neuroscience. ®