NSW Police wins global gong for Facebook project
Social reinvention of Neighbourhood Watch going ... erm ... gangbusters
NSW Police has won a global social media gong for its project eyewatch, a social reinvention of Neighbourhood Watch.
The prize was awarded by ConnectedCOPS.net, a hub for all things social and law enforcement run by a consultancy to law enforcement agencies.
NSW won the prize for Excellence at a Large Agency, beating out the Reykjavik Police* and the Toronto Police Service.
Like real-world Neighbourhood Watch projects, Eyewatch organises the community into precincts linked to local area command. Each local area command has an open Facebook group and each precinct has a closed group. Precinct members use their group to report on crime, anti-social behaviour or events they feel might be worthy of police attention. Police at local area command are members of the closed precinct groups and visit the groups to glean intelligence. The project's workings are described in the graphic below.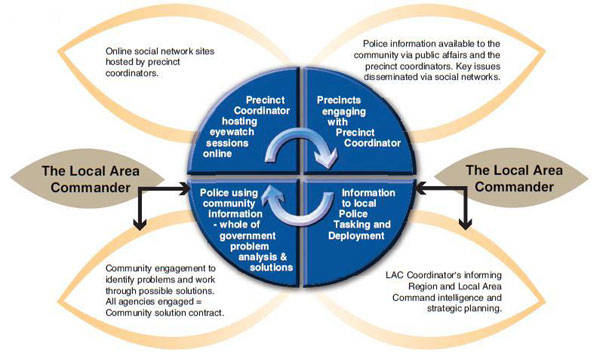 eyewatch has 100 open groups and 192 closed precinct groups, with thousands of participants across the State.
Chief Inspector Josh Maxwell, billed as the project's "champion", told ConnectedCOPS that "In policing terms, this enhances our ability to environmentally scan our communities. In layman's terms it is simply ensuring that local police have the 'vibe' of the community and are in touch with its needs and issues." ®
* Take that, Iceland. We rock here in Australia.