Ten USB 3.0 HDD enclosures
Stay safe, drive fast
StarTech SuperSpeed 3.5in

All connecting parts from this larger Star Tech enclosure pop off the top, which makes fitting an easy task. The downside is that the design feels cheaply built and for a decent fit, you'll want to get the screwdriver out and secure a drive in place.
LED status lights are also built into the connecting part, with windows on the opposite side of the enclosure simply picking up glowing blue from the distance. It's more unexceptional housing that simply does its job and clocks out at five, so it does feel somewhat overpriced, but hunt around and you should find the StarTech gear around half price. The power lead is shorter than usual too, which might appeal to some keens to avoid desktop coils, but maybe not everyone..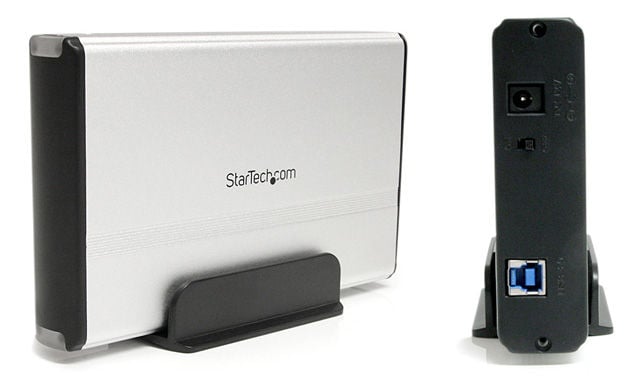 Reg Rating 65%
Price £46
More info StarTech
StarTech SuperSpeed 2.5in

This lightweight aluminium slidey-case is a doddle to use, although as with the Enermax rival, you can't unslot drives without initial tilt, so there are slight fragility concerns. Plus, with only two points to fix the slidey panels in place, it would only take one missing screw for them to remain endlessly loose.
The StarTech is merely basic parts assembled in a basic way, so no brownie points for innovation here. There's a green LED light on the rear that blinks while in use, as well as the standard faux leather pouch for added protection. The price reflects its minimalist build, though, so if you're looking for a bog-standard portable and cheap quick-fix, the StarTech SuperSpeed could be worth a look-in. And if you don't want to rely on split USB cables, there's a slightly bigger Superspeed option for the same price.