iPhone 5: skinny li'l fella with better display, camera, software
No surprises – and no NFC – but a thoroughgoing upgrade
Wireless acronyms galore
The new iPhone's connectivity has been increased, as well. As widely rumored, it now supports the LTE wireless broadband spec, as well as (take a deep breath) GPRS, EDGE, EVDO, HSPA, HSPA+, and DC-HSDPA. Sounds like a "world phone" to us, and one that will have LTE support through AT&T, Verizon, and Sprint in the US; Deutschte Telekom in Europe; EE in the UK; and Telstra, Optus, and Virgin Mobile in Oz.
Of course, wireless doesn't just mean connections through telecoms – there's Wi-Fi in the iPhone 5, as well – 802.11 a/b/g/n, to be precise.
Another major step up from the iPhone 5, Schiller said, is its new A6 processor, which he claims will double both compute and graphics performance. Even with that extra power, he boasted, battery life will remain strong: eight hours of 3G talk time, eight hours of LTE browsing, 10 hours of Wi-Fi browsing, and 40 hours of playing music. Standby time? 225 hours – aka nearly nine-and-a-half days.
The camera in the new iPhone also got some love from Apple engineers. It now has a eight megapixel (3264-by-2448) sensor, a five-element ƒ2.4 lens, a low-light mode, and backside illumination. Its lens cover is now a sapphire crystal – my, hard-core hardened jewels on your cameraphone.
Schiller also said that the A6 processor has the oomph to support 40 per cent faster image capture, plus high-quality automatic noise reduction and filtering. New software support from iOS 6 and iCloud provides panoramic photo stitching, plus other goodies such as video stabilization (1080p HD, of course) and face detection.
That's the backside camera. On the front, the FaceTime camera has been upgraded to 720p, also with face detection, and also backside illuminated. It'll also allow you – provider permitting, of course – to make FaceTime calls over your telecom-supplied wireless connection.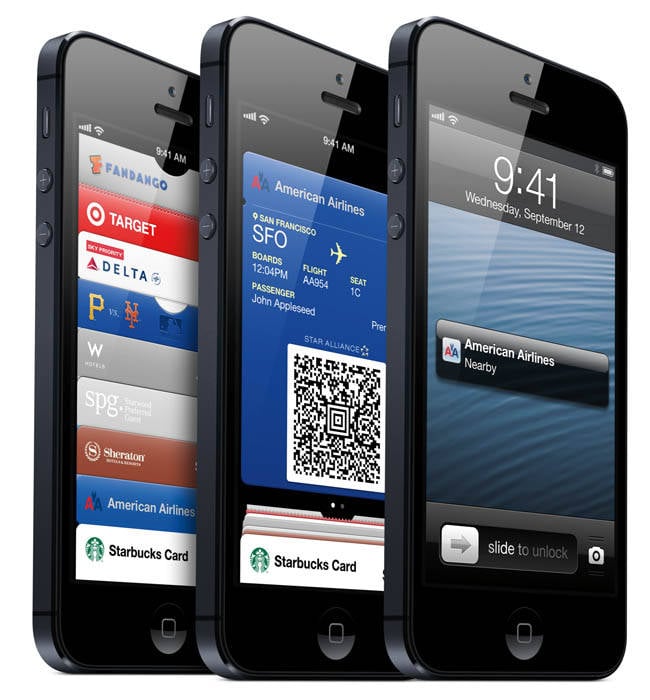 The iPhone 5 will run iOS 6's Passbook app, but hasn't any near field communication (NFC) hardware to enhance it
Schiller also touted the iPhone 5's improved five-magnet speakers, which he said sound better than the iPhone 4S despite being 20 per cent smaller. And speaking of sound, Apple is working with carriers to improve the audio quality of calls by broadening the audio spectrum they use beyond the now-standard midrange-focused compression.
As expected, the iPhone 5 is jettisoning the long-familiar 30-pin iPhone/iPod/iPad connector, and replacing it with a new connector that Apple has dubbed "Lightning" – Thunderbolt's little brother, perhaps?
Lightning is all digital, thus leaving old analog speaker docks and the like behind – although Apple will offer a 30-pin Lightning adapter that Schiller says will bring them out of the cold.