Oz court to test AdWords' WHOLE BUSINESS MODEL
Regulator insists ad placements can misled and deceive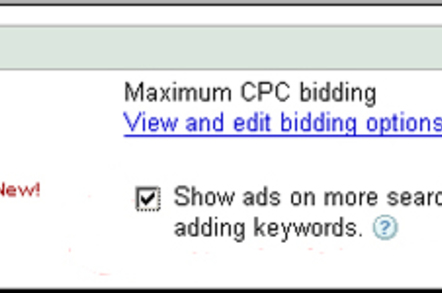 Australia's High Court, from which no appeal is possible, will this week hear a case in which Google stands accused of intentionally deceiving and misleading consumers by automatically placing ads according to advertisers' requested keywords.
The case is being pursued by Australia's Consumer and Competition Commission (ACCC), which in 2007 took offence at advertisers who bought ads that appeared when users searched for their rivals.
Some of the ads meant that searchers seeking information on Ford cars, for example, could find themselves presented with ads that mentioned Ford but linked to dealers of other makes of car.
The ACCC felt that practice was misleading and deceptive under Australia's Trade Practices Act and that Google was the source of that deception, despite the fact that it was advertisers and not the Chocolate Factory that allied the ads to the search terms. Google argued it could not be responsible for the acts of its advertisers, and won a first case on the issue with that logic.
A later appeal overturned that decision, holding that Google's algorithmically-automated ad-placement regimen was to blame for the publication of the misleading ads. A judge told Google off.
Google appealed that decision to the High Court. That case started today (Australian time).
The Australian Copyright Council's preview of the case says Google's defence will use three main three arguments, namely:
The sponsored link consists of three elements, the content of which is dictated by the advertiser, namely, the headline, advertising texts and the URL, and these would not exist but for the creation and direction by the advertiser;
Users of the search engine understand that the sponsored links are advertisements paid for by the advertiser; and
The misleading conduct alleged was the making of particular representations, namely, a commercial association or other relationship between two entities identified in the advertisement.
The council says the ACCC's attack will insist that:
Google used its proprietary algorithms to determine which particular advertisements would be eligible for display in response to a given query and determined which from amongst those eligible advertisements would be published, in response to a user's query.
Google inserted the keywords from the user's queries into the headlines of the advertisements.
Google collocated the headline with the advertiser's URL and gave the headline the functional features.
When the ACCC commenced its action in 2007, it was widely-held to be the first time Google's practices had been challenged in this way. To the best of The Reg's knowledge, that remains the case.
This trial will therefore be watched carefully around the world, given the endless stream of cash AdWords creates is ever-so-slightly-critical to Google's business model. The Reg will bring you the best bits as the case unfolds. ®