HP tempts EVA customers with low-end 3PAR array honeypot
EVA replacement gives them a 50% boost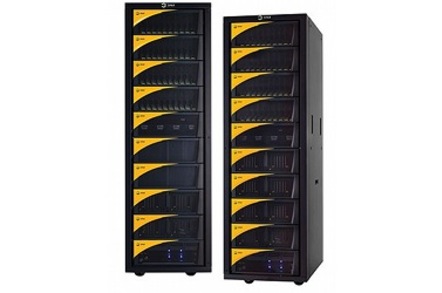 HP is building a low-end 3PAR array with data migration software to convert the EVA customer base to a 3PAR customer base. We hear HP will use SAS disk drives instead of the more expensive 3.5-inch Fibre Channel drives.
This will make it easier to substitute 3PAR's V-, T- and F-Class arrays s for the ageing EVA mid-range, dual-controller arrays in HP's storage product arsenal.
It will be priced at or below current EVA pricing levels and ship in November.
HP added a new high-end, the P10000 or V-Class, to its 3PAR line in August last year. Another year, another array sounds right. We understand that the new array was going to be called the P7000, to complement the EVA or P6000, the P9000/9500 (Hitachi VSP), P10000 and so forth.
However it begins to look as if HP is moving away from its Pxxxx classification naming scheme to product names instead such as StoreOnce, 3PAR, LeftHand, etc. On that basis the new 3PAR array will be called the "something"-Class where "something" is a letter in the alphabet before F.
At the same time as the P10000 launch, HP announced Peer Motion, a way of federating different storage arrays and having them function as a single linked entity with distributed volume management. At launch it included 3PAR and the LeftHand or P4000 iSCSI arrays, with the capability of moving data between arrays.
Our information is that a developed Peer Motion will incorporate EVA arrays and there will be single-click, snap-copy, data transfer from an EVA array to the new 3PAR array. The EVA arrays are long-lived and reliable but limited in functionality and getting outclassed by newer technology arrays such as EMC's VNX and Dell's Compellent line. EVA revenues are declining and HP needs to provide a migration path for its EVA customers or watch them walk away.
Customers get a 50 per cent increase in disk capacity utilisation by moving from their EVA array to a 3PAR one; a pretty compelling increase. For EVA customers, the EVA arrays have been out in the cold and Peer Motion federation brings them back into the HP corral with somewhere to go. It will be a relief. The new Peer Motion will also ship in November.
We also hear rumblings of a 3PAR MiniMe product, but little else than the name. It may be – although this is pure speculation – 3PAR array controller software implemented as a virtual SAN appliance, like a LeftHand VSA, but that means no performance-boosting 3PAR ASIC. MiniMe also sounds small and personal.
When asked about these matters, an HP spokesperson said: "We do not comment product futures, including whether or not details are potentially in our roadmap."
Over in Oracle-land, a new Pillar Axiom array may be coming, together with a ZFS announcement. An Oracle spokesperson couldn't comment about either of these notions. ®