Intel contextual awareness: 'We know what your wife is up to'
Knows when its best to call, text, or just leave her alone
IDF 2012 Intel Labs is working on a technology that uses what it calls "contextual awareness" to advise you of the best method to use when contacting others.
"I want to call my wife or text my wife during the workday," Intel research engineer Philip Muse told The Reg during a pre-show technology showcase on Monday at the Intel Developer Forum in San Francisco, "but I don't know what she's doing. She's out and about, she's busy, she's doing something – I never know whether I should call her or text her."
Enter contextual awareness. "With this technology, I will now have a picture of what she's doing, and I can make that decision."
The technoloogy takes advantage of what Muse called hard sensors and soft sensors – hard sensors being such built-in capabilities as your mobile device's accelerometer or GPS, and soft sensors being based on event in your calendar, your interaction with applications, or other software-based information.
These sensors share your user state among all your devices – smartphone, PC, whatever – to provide the contextual awareness system with a idea of what you're up to at any given moment. Knowing that, it can advise your friends, family and colleagues the best way to contact you or interact with you – phone calls and texting were the forms of interaction that Muse and Intel Emerging Platforms engineer Sai Prasada demoed at the event.
A phone equipped with contextual awareness technology, for example, will display an icon showing whether the person with whom you want to get in touch is at their desk, walking around, or playing music – it can even listen in to that person's surroundings, should that permission be given. "I know now what's going on at the other end of the phone," Muse said, "before I even place the call or send a text."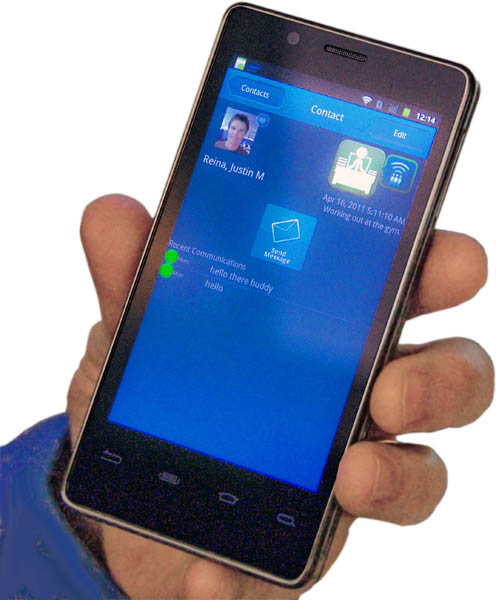 Intel Labs' contextual awareness technology suggests that right now it'd be best to send Mr. Reina a text message
Contextual awareness as perceived by a desktop or laptop PC focuses, understandably, less on mobility and changing location and more on the software being used on that device and the target person's activity – a "don't bother me" hand icon, for example, will tell you that the person doesn't want to be contacted because they are, say, in a meeting.
Prasada noted that the contextual awareness technology will suggest the best way to contact someone – by text message, for example, if they're in a meeting – although it does allow you to override its suggestions. It also allows you to send that text message to their laptop rather than their phone – which, he noted, might be in their pocket during a meeting, and presumably they might not want the boss to know that they're receiving a message.
Another example: say you want to contact someone who's driving in their car, and you're in a meeting so you can't call them on the phone. You can instead text them, and the contextual awareness technology will sense that the reciptient is in their car, make the connection, and translate the text message to speech over their hands-free car phone using a text-to-speech capability. Similarly, the recipient can speak their response, which will then be translated into text and sent back to you as a text message.
All of these various and sundry activities and notifications can be overriden, and preferences can be set by each user, as well. Presumably, your wife can simply turn the entire system off if she simply doesn't want you to know what she's up to.
Although, of course, when she comes home she might have some 'splaining to do.