Mellanox rips covers off virt-SAN beast, claims Fibre Channel vanquish
Preparing a whuppening for VNX ass, one might think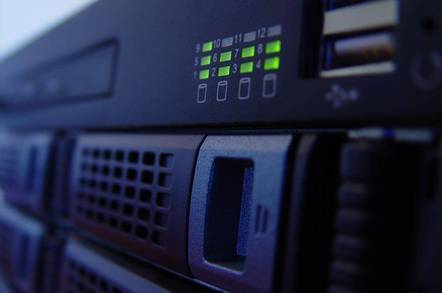 InfiniBand vendor Mellanox has demonstrated a Fibre Channel-beating virtual SAN appliance at VMworld, claiming it's six times faster than FC SANs.
Virtual SAN appliances (VSAs) are becoming more serious. They started out as SAN try-outs using server SW and the server's local disks to produce a shared block-access storage area network (SAN) system without the actual Fibre Channel or iSCSI Ethernet-connected storage arrays. The server SW was basically the SAN array controller software.
In fact we can say that a storage array is basically a pair of embedded servers - controllers - with an extraordinarily high amount of direct-accessed storage (DAS), accessed by other servers across a network. Put the controller SW in a commodity X86 server, as used for apps, and it can turn that server's local disks into a SAN too. Typically such VSA servers have limited local disk capacity and VSA SANS are not as capacious as physical SANs. You can often cluster nodes together to bulk up capacity though, and if a VSA server has network- attached external storage then the VSA can present that as part of its storage pool too.
LeftHand Networks was an early VSA proponent, with its VSA code running inside a VMware virtual machine - and its acquirer, HP, has developed this as its StoreVirtual VSA product. Others including NetApp have joined in, and OnApp.
Mellanox has also produced a VSA product, turning a bunch of servers with local disks into a SAN accessed over Ethernet or InfiniBand. It calls it a storage accelerator.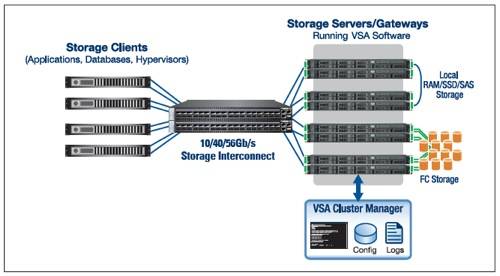 Mellanox VSA set-up.
A cluster of VSA servers linked over 10 or 40 gigE or 56Gbit/s InfiniBand use local DRAM, SAS HDD and SSD storage, as well as - optionally - connected Fibre Channel SAN storage, acting as a gateway and presenting it as part of its SAN storage pool to storage-accessing clients. The VSA server components are diagrammed below: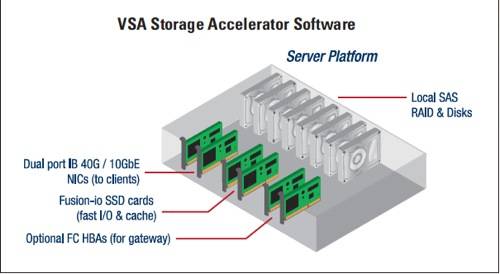 This diagram includes Fusion-io PCIe-connected flash cards as well as local disk drives. Mellanox says such a VSA can offer up to a million IOPS, 5GB/sec bandwidth per storage target and 0.07ms latency with a read and write cache. It states (pdf); "VSA leverages iSCSI or iSER (iSCSI RDMA Extensions) to maximise throughput … [and] is designed to process many transactions in parallel with very little I/O overhead."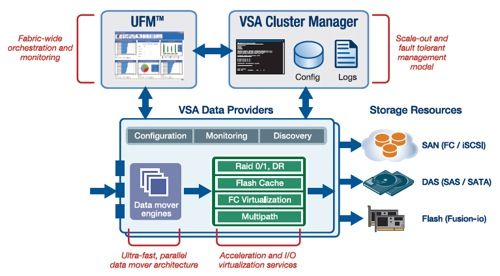 Mellanox VSA software architecture.
What Mellanox has now done is to implement its VAS as a virtual SAN (vSAN) SW appliance by running the code inside a virtual machine (VM) under VMware's ESX 5.1, which includes SR-IOV functionality. As with the physical VSA there is built-in caching and clustering and the up to 6X Fibre Channel speed. Mellanox says that this product "reduces the costs of FC SAN adapters, switches, and physical storage systems, while creating unprecedented application performance over virtualised infrastructures."
Okay, but is it cheaper than a FC infrastructure? Can it hold as much data? Is it as fast as a hybrid flash-disk SAN or an all-flash array SAN?
Yaron Haviv, data centre solutions VP at Mellanox, said; "[The] VSA vSAN software appliance significantly reduces data centre and cloud infrastructure costs while actually boosting application performance. In addition, its internal RDMA-based clustering technology scales out [linearly] to many virtual appliances without performance or efficiency loss."
Mellanox claims a VM client can achieve 190,000 IOPS and get 5GB/sec bandwidth. A VSA target appliance instance can deliver 6GB/sec with one RDMA adapter, 12GB/sec with two, and deliver more than one million IOPS. A VSA vSAN cluster can deliver hundreds of GB/sec and millions of IOPS.
EMC has said VSAs are pretty much just SAN sales tools; playthings as it were. Mellanox' VSA is heavy duty and looks like it could whup VNX' ass in terms of data access performance. How's that for a plaything?
The software was demonstrated at VMworld in San Francisco and Mellanox has yet to release pricing and availability information. ®