Samsung snubs slump, slurps stunning smartmobe sales
Slow down? What economic slow down?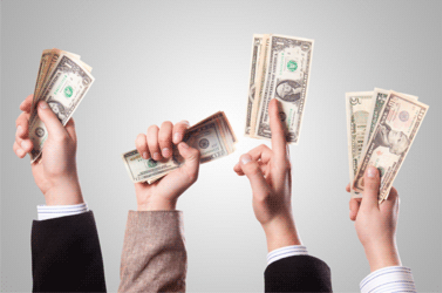 Strong smartphone sales banked Samsung a $4.56bn profit in the three months to 30 June, according to its latest bean counting exercise. The South Korean giant posted a 48 per cent year-on-year rise in net income in preliminary results announced last night [PDF].
Despite the economic chill that has seen even Apple's growth hit the brakes, Samsung trousered 5.19 trillion won ($4.56bn) in net profit in the quarter just gone - up from 3.51 trillion won ($3.08bn) in Q2 2011 and up 3 per cent on the 5.05 trillion won ($4.43bn) in Q1 2012.
Smartphones performed very strongly for Samsung: overall sales revenue from mobiles was up 75 per cent year-on-year, from 11.69 trillion won ($10.26bn) in Q2 2011 to 20.52 trillion won ($18.02bn) in Q2 this year.
Samsung's success with smartphones puts them further ahead of Apple in the sector. While Cupertino shifted 26 million iPhones in the last quarter, StrategyAnalytics estimates that Samsung sold 50.5 million handsets. That gives Samsung 34.6 per cent of the global smartphone market to Apple's 17.8 per cent.
With 47.60 trillion won ($41.79bn) in total revenue for the quarter, Samsung is also the biggest technology company in the world in terms of total takings. Apple pulled in $35bn last quarter but made more profit: $7.2bn.
In line with the general economic gloom and flatlining demand in Western markets - Samsung's sales of PCs, printers and network hardware fell in the past quarter. Weak PC demand dampened sales of Samsung's DRAM semiconductors for PCs, although sales of DRAM for servers and mobile tech grew moderately.
Samsung managed to post moderate growth even in stagnant areas, such as telly sales, by focusing on developing markets. The company predicts that its smartphone sector will continue to perform strongly in the next three months of 2012, and are expecting growth in the TV sector, particularly in China. ®