Court blocks 12 websites for 'misleading' Olympic ticket sales
20,000 tickets shifted
Twelve websites are being blocked by British authorities under for the unauthorised sale of tens of thousands of tickets to the Olympics.
The Office of Fair Trading (OFT) said it had secured an interim enforcement order from the High Court blocking the sites' further sale of tickets and giving British authorities the ability to re-direct potential buyers to a holding page with a warning message from the Metropolitan Police, Serious Organized Crime Agency (SOCA) and the OFT. The order was granted Monday.
The sites named are londonsummergames.org, londonsummergames.net, summergames2012.org, olympicticket.info, 2012tickets.org, euroteamtickets.com, euroteam.info, euroteam.net, euroteam.travel, euroteamtickets.wordpress.com, us.euroteam.info and worldticketservice.net.

The Met, SOCA and OFT message on euroteam.travel (click to enlarge)
The interim order required the defendants to stop offering Olympics tickets otherwise they could have the sites redirected to a holding page.
At the time of writing just the euroteam.travel site had been re-directed while the others are not available.
An OFT spokesperson told The Reg it was moving quickly and was in the process of posting the warning on the remaining sites.
The OFT has taken informal action against a further 236 other sites from different traders for also offering Olympic tickets without authorization.
The OFT said 20,000 tickets had been sold by the 12 but that the four companies running them - Euroteam AS, Uncus AS Ticket, Travel AS and Tixnet AS all operated out of Norway - had only been able to source 5,000 tickets.
The OFT said those who do receive tickets from the 12 sites may find they are invalid and may be barred from entering the Games when they pitch up.
An OFT spokesperson was unable to put a figure on the value of the 50,000 tickets sold.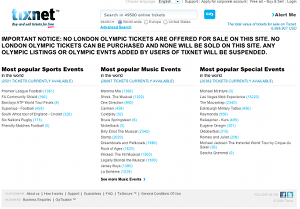 Tixnet's "not selling" Olympic tickets message (click to enlarge)
Tixnet, an online exchange, has posted a notice on its site saying Olympic tickets are not for sale on its site and listings and events posted will be removed.
"The companies' websites misled consumers and failed to make clear the risks of buying tickets from them," the OFT said. The OFT stressed that the four companies behind the sites are not authorised to sell Olympic tickets.
The OFT said the defendants had expressly and/or falsely asserted that the were allowed to legally sell tickets, that they are authorised distributors, would supply valid tickets, and that tickets would be dispatched to customers in time for events. ®