Sally Ride, trailblazing Shuttle astronaut, dies at 61
First American woman in space
Sally Ride, the first female American in space, has died at the age of 61 after a 17-month battle with pancreatic cancer.
Ride was born on May 26, 1951 in Encino, California, where she spent her childhood. An athletic child, she was a competitive tennis player even at a young age, but she also always loved math and science, and she devoted herself to her studies.
By 1977, she had completed a dual major in English and physics at Stanford University, and was working on finishing her doctorate in physics, when she saw an ad in the student newspaper looking for recruits to join the NASA space program.
The space agency hadn't taken on new astronauts in about 10 years, and the previous generation had all been struck from the "Right Stuff" mold. They were mainly military test pilots, and all were men. But now NASA was widening its reach to include scientists and engineers, and it would also consider female applicants for the first time.
Ride immediately sent in her application, and in January 1978, she was selected to become one of 35 new astronauts out of some 8,000 applicants. Only six of the new recruits were women.
While training for space missions, Ride worked as a communications officer for the ground crew of the second and third flights of the Space Shuttle Columbia. She was also a member of the team that designed the Shuttle's robotic arm, used for deploying satellites.
Ride finally got her chance to voyage into space on June 18, 1983, on the second mission of the Space Shuttle Challenger. At the time, she was the youngest American to participate in a space mission.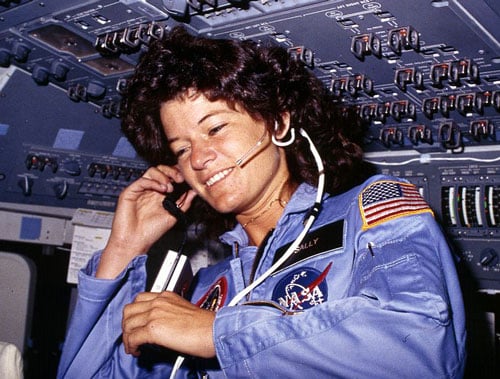 Sally Ride communicates with NASA during her first Shuttle mission, June 1983
She would fly aboard the Shuttle once more, in 1984, earning her a total of 343 hours in space. She was in the middle of training for her third mission when the 1986 Challenger catastrophe put a temporary halt to the space program.
Ride was nominated to the presidential commission to investigate the Challenger accident and headed its subcommittee of operations. She was then assigned to NASA headquarters in Washington, DC, as special assistant to the administrator for long-range and strategic planning.
There she wrote an influential report that recommended long-term strategic goals for the space agency, including Earth observation, exploration of the Solar System, establishing a permanent base on the Moon, and a manned mission to Mars.
Ride retired from NASA in 1987 and became a science fellow at the Stanford Center for International Security and Arms Control. In 1989, she joined the faculty of the University of California, San Diego as a professor of physics.
Perhaps her most important post-NASA work, however, was in encouraging children to pursue education and careers in science, technology, engineering, and math.
She cowrote seven books on science for children, and in 2001 she founded her own company, Sally Ride Science, which offers science-based programs and instructional materials for classrooms and professional development training for teachers.
When asked in 2006 what her legacy should be, Ride said, "I would like to be remembered as someone who was not afraid to do what she wanted to do, and as someone who took risks along the way in order to achieve her goals." ®
Sponsored: Detecting cyber attacks as a small to medium business