New! Yahoo! CEO! Mayer! awarded! mucho! mazuma!
Near-$60m compensation package for ex-Googler and current mommy-to-be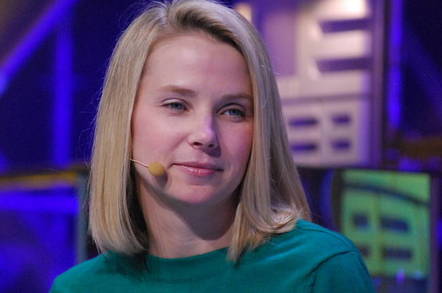 Yahoo!'s new CEO Marissa Mayer will be handsomely rewarded for taking the reins at that troubled company – she's been granted an annual base salary of $1m, and can earn up to another $2m in bonus money during her first year.
But wait. There's more.
According to an SEC filing made available on Thursday, Mayer will also receive $6m in restricted stock units vesting over three years, and another $6m in stock options vesting over two and a half years.
And we're not done yet.
In addition, Mayer will receive a $30m "retention award": $15m in restricted stock units granted next Thursday and vested over five years, plus an additional $15m in performance-based stock options. That latter load is expected to be granted this November, and is subject to performance-based vesting requirements over the next four and a half years.
Surely that's enough, right? Nope.
There's also $14m in restricted stock units to "partially compensate Ms. Mayer for forfeiture of compensation from her previous employer." Those buckets-o-bucks will vest at the rate of $4m in 2012, $7m in 2013, and $3m in 2014.
It seems hardly worth it to mention that Mayer will also be entitled to up to $25,000 for "reasonable legal fees incurred in connection with entering into the Agreement," plus $50,000 per year for "security expenses".
Few of us will ever see that many zeros in our pay packages – but it does make us feel a wee bit better to note that Mayer will receive a mere 20 days of vacation per year. Here at The Reg, we ink-stained wretches enjoy a full 25 days.
Eat your heart out, Marissa. ®
Sponsored: Beyond the Data Frontier