Darth Vader is a pansy
Wearing black doesn't make you cool
Something for the weekend, Sir? American country music doesn't appeal to me, but Johnny Cash atoned for its worst sins. Whitney Houston's foghorn cover of Dolly Parton's funeral-favourite I will always love you could finally be forgiven when Cash returned the favour with his version of Depeche Mode's Personal Jesus.
But if you had turned up at the wrong Hollywood party a decade ago and found yourself surrounded by C&W stars, would you choose to hang out with Kenny Rogers in the hot tub or Johnny Cash by the dustbins?
What made Cash cool? Could it be, perhaps, because he dressed in black? Does black = cool? And could this phenomenon explain why every electronic product is now designed like a stealth fighter?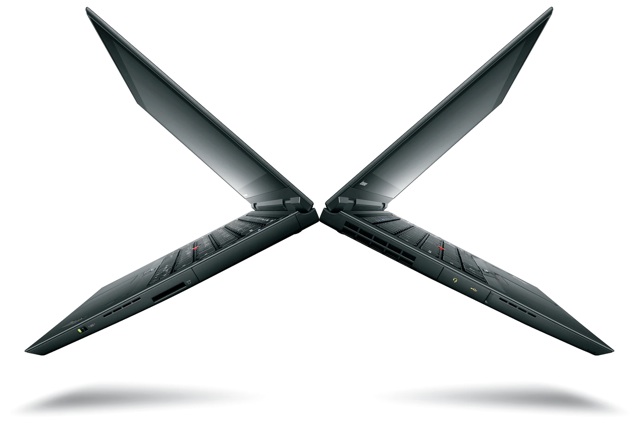 X box: are black computers more cool?
The visual styling of computers has been discussed to exhaustion, including my reference last week to the translucent plastic of the late-1990s iMac bandwagon. Children reading this may still wonder why almost all early personal computers were beige during the 1980s. Strictly speaking, the colour was supposed to be 'putty' or 'stone white' rather than beige but the plastic quickly yellowed in busy offices because we were allowed to chainsmoke at our desks back then.
'Stone white' is an odd name, though. When I pick up a stone, they usually turn out to be black or slate-coloured. Perhaps it's time to invent some new names to match reality. Given the recent weather in the UK, perhaps we should have a 'sky white'.
Anyway, all that 1980s beige is commonly explained as the result of it being considered a neutral colour in offices. It had already been the choice colour for filing cabinets, rolodexes, typewriters and fax machines, so the PC had to conform. To be honest, given that personal computers were born out of the 1970s, we're bloody lucky they weren't mustard colour with brown and orange trimmings… although I might have treated my Qubié IBM clone with more respect if it had been styled red with a white lightning stripe like the car from Starsky and Hutch.
Having survived the translucent plastic era and still emerging from a period in which notebook manufacturers have apparently been working their way through some kind of world surplus of dull grey plastic, some kit has adopted Apple's aluminium alloy fad while everything has gone black. My mobile phone, my landline phone, my TV, my games console, my wifi router, my Motorola Xoom… everything.
Even the latest Intuos graphics tablet from Wacom has adopted the all-black fashion. Why? Possibly because the company's entry-level Bamboo range went black and sold zillions. The latest multi-touch Intuos 5, by the way, is superb but I don't agree with Wacom's marketing describing it as "eye catching". I mean, it might be beautiful for all I know but it's so matt black that I can barely see the damn thing. It's like the monolith from 2001: A Space Odyssey.
Speaking of which, how come my kids never built me an iPhone docking station like this one seen on Imgur?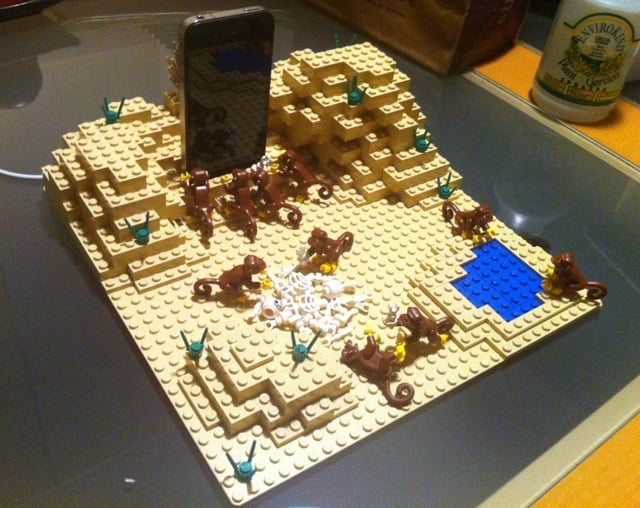 Source: Imgur
A blogging wag has already observed the 'go faster' concept of black computers. And one keyboard manufacturer has even taken it to the extreme by creating a keyboard so black that it doesn't have any labels on the keys: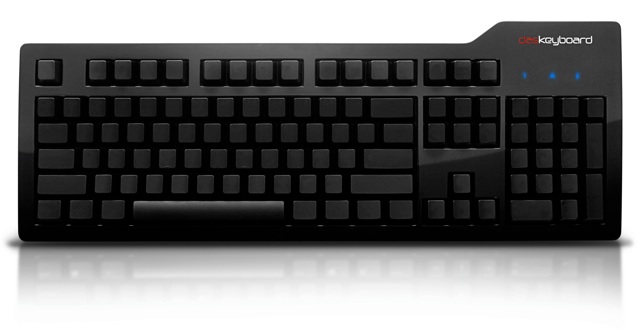 I read somewhere recently that the fashion for men remaining in a perpetual unshaven state without actually achieving beardhood is the result of men wanting to look like baddies from action flicks. Baddies are cool on the big screen. They have British accents. They command armies of evil-doers. Some of them wear black. They have a problem shaving.
Goths are having a great time. When I took my son to see Marilyn Manson in Brixton the other week, everyone - and I mean everyone - in the audience was wearing regulation black. It was an opportunity for me to sport my own favourite black T-shirt, the one my wife does not like me to wear while we're out shopping: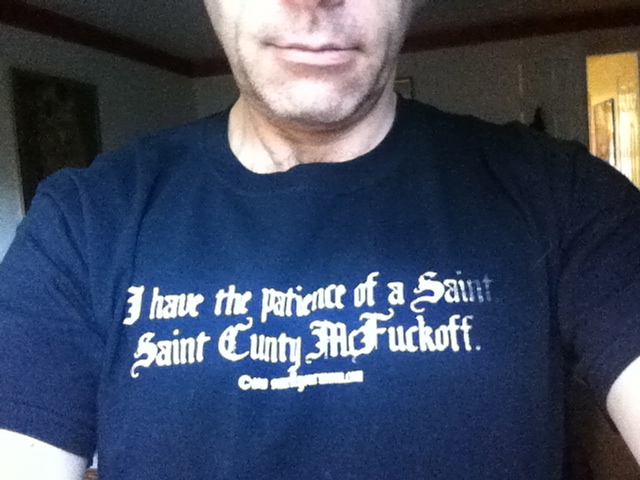 Personally, I agree that action movie baddies were an influence: kids from the 1970s and 1980s watched Star Wars and grew up to be computer designers. For some baffling reason, they decided that the principal baddy, Darth Vader, was cool.
This is so wrong. Despite my throwaway comment last week about The Black Hole, a confusing and mostly dreadful Disney sci-fi mess from 1979, it featured a proper baddie: a bad-tempered and creepily taciturn robot called Maximillian whose hands were spinning razors.
Maximillian was not cool, he was shit-scary, and he disembowelled Anthony Perkins' character on-screen. Snow White, this was not.
Yet most people are unaware of Maximillian as a cultural icon. The problem with Max, apart from appearing sporadically in a dreadful sci-fi movie, was that he was coloured blood-red, not black. So it seems that Darth Vader is not really cool because he's a star Sith, but because of his dress sense.
I would like my next computer to be blood red, thank you very much. ®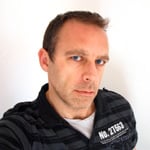 Alistair Dabbs is a freelance technology tart, juggling IT journalism, editorial training and digital publishing. He is currently working on two national newspapers simultaneously, which helps explain why newspaper sales are down. You can harangue him between Fridays at #sftws on Twitter.