SanDisk: Yargh, nobody does SD-cards bundled with phones anymore
Damn you, with your capacious embedded blower storage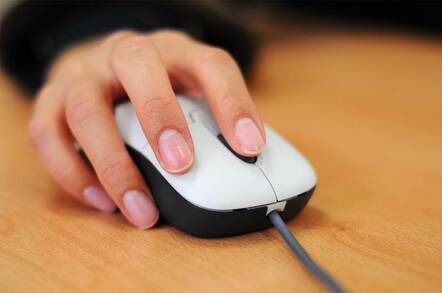 We thought the flash storage market was booming, but even so SanDisk came within a whisker of making a loss in its second quarter as revenues of $1.03 billion tumbled 25 per cent annually and 14 per cent compared to the first quarter.
The profit was just $13 million, compared to $114.3 million the previous quarter. Revenues fell $176 million from the first quarter and profits fell $101.3 million, as SanDisk was caught out by events and couldn't or wouldn't react fast enough. What went wrong?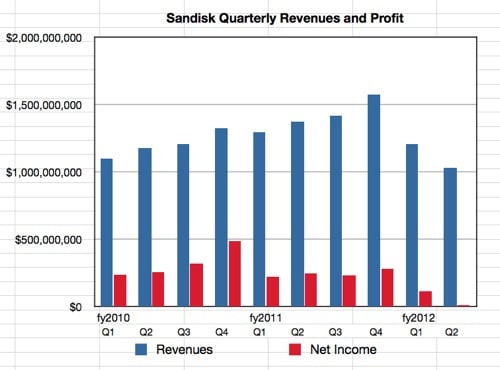 Recent SanDisk quarterly revenue and profit history
Nothing much according to Sanjay Mehrotra, CEO:
"We delivered second quarter results in line with our forecast, reflecting short-term weakness in our mobile OEM sales, strength in retail, especially in international markets, and growth in our enterprise and client SSD products … SSD revenues achieved 10 per cent of second quarter sales with growing adoption of our solutions by major OEMs. We also made good progress on our embedded product roadmap for mobile customers. We believe that strengthening industry fundamentals and our expanding portfolio of solutions will contribute to improving financial results in the second half of 2012."
Yeah, yeah, but this lousy second quarter comes after a first quarter that was lousy too, with revenues falling to $1.2 billion from the preceding quarter's $1.58 billion and profits dropping to $114.4 million from $281 million. Revenues have dropped $556 million in two quarters and profits $268 million.
Come on guys. This is starting to look bad.
In the earnings call, Mehrotra said:
"In the second quarter, as we discussed previously, the bundled card opportunity with handset OEMs continued to decline due to a combination of OEMs reducing their … costs and increasing their mix of embedded flash smartphones."
SanDisk is building up its embedded business to take account of this:
"Overall, we are driving aggressively towards reinvigorating the growth of our embedded business and are encouraged with the success achieved so far."
In the SDD area it has customer qualifications, and PCIe flash-wise OEM shipments have begun. It's got some Ultrabook flash design wins but Ultrabooks sales are not booming. In essence it's late to the mobile phone embedded flash party, and its PCIe and Ultrabook flash product sales are not ramping fast enough to compensate.
Looking ahead Mehrotra said:
"We now forecast lower industry supply growth for both 2012 and 2013. This is the result of the industry slowdown in capacity growth, a continued slowdown in technology transition and a longer deal of technology nodes driven by OEM requirement … [and] we look forward to improved performance in the second half of 2012 and beyond."
The third quarter revenue forecast is a rise to $1.2 billion +/- $50 million. They'll be praying it happens. ®