Microsoft: Azure now holds FOUR TREELLION objects
Whup-ass can opened, drained, crumpled to size of pea
A trillion here and a trillion there; pretty soon you're talking about real storage.
In a classic peeing-up-the-wall contest Microsoft has said it pees four times higher than Amazon. Actually there are 4.03 trillion objects stored in its Azure Storage cloud compared to 905 billion in Amazon's Simple Storage Service (S3).
Brad Calder, general manager of Windows Azure Storage at Microsoft, has blogged about Azure's stored object stats. He says that 270,000 requests come in every second and the peak is 880,000/sec.
Back in April we learnt that Amazon's S3 was peaking at 650,000 requests a second. That was when the 905 billion stored objects number came out; it may be around 2 billion now. Calder says that the 4.03 trillion number is for unique objects and doesn't include safety copies.
Here's a chart showing Azure's stored object count growth: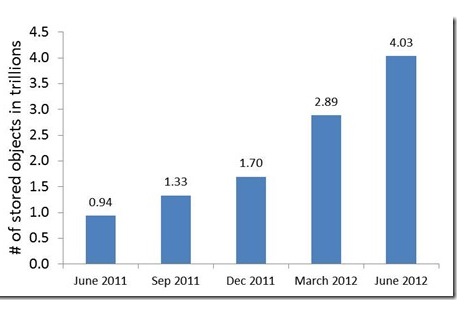 Azure Storage stored objects (trillions)
Back in April we showed a chart of Amazon's S3 stored object growth. Here it is again: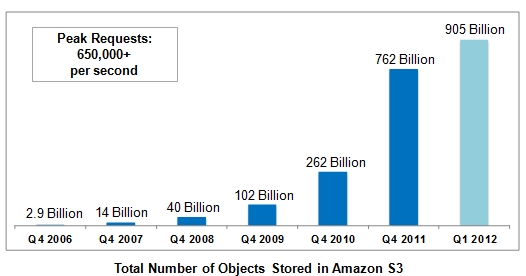 Amazon S3 stored objects (billions)
The units and dates are different but we can combine these two charts to get this comparison one: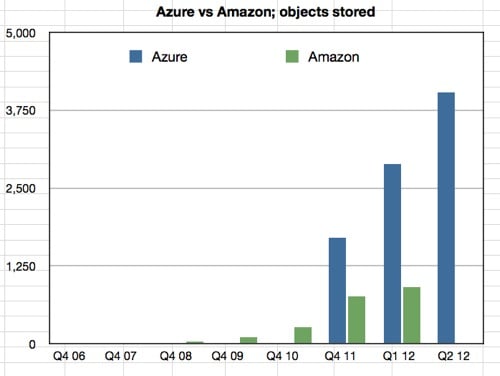 Stored objects in Amazon and Azure (billions)
Microsoft is apparently whupping Amazon's ass. It is growing much faster and could reach 10 trillion stored objects by the end of the year. This indicates substantial take up of public cloud storage services.
Amazon stores more data than the S3 object numbers indicate, as it has its Amazon Dynamo DB, a NoSQL database, and other database services that will have record data in them. But on a simple stored objects basis Azure is going gangbusters, has overtaken Amazon's S3, and Microsoft has a tremendous success on its hands. ®
Sponsored: Practical tips for Office 365 tenant-to-tenant migration