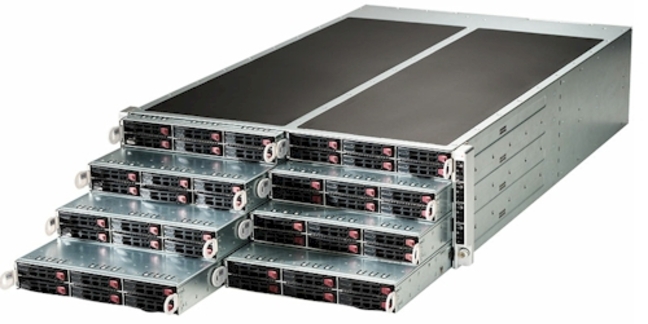 Motherboard and whitebox server maker Super Micro pre-announced its financial results for its fourth quarter of fiscal 2012 ending in June, and it looks like it's not going to make its numbers.
In a statement, Super Micro said that it would book revenues of approximately $275m, which is just under the range of $280m to $310m it had expected. Given the "Sandy Bridge" Xeon E5 processor ramp from Intel, you can bet that Super Micro was aiming at the top of that revenue guidance.
Still, this will be a record quarter for Super Micro, with it earning 5.6 per cent more than the $260.3m that the company raked in during Q4 of fiscal 2011 last June.
Super Micro, which got burned by a shortage of disk drives in the aftermath of last year's flooding in Thailand, now seems to have been burned by a glut of disks. The company said in its terse statement that gross margins were adversely impacted in the quarter due to price drops for disks, for which it had excess stock as well.
Non-GAAP gross margins are expected to be in the range of 15 per cent, two points lower than in the third quarter ended in March.
"Although we achieved record high revenues for the June quarter and for the fiscal year," Super Micro CEO and chairman Charles Liang said in the statement, "steep HDD price declines during the quarter and higher expenses for R&D related to new product optimization and for market promotion impacted our net profit significantly in the short term. We believe that we are well positioned to continue our strong growth and steadily improve our financial performance over the next several quarters."
Super Micro will report its full financial results for fiscal Q4 on August 7. ®
Sponsored: Ransomware has gone nuclear