Like clouds, like Big Data? You'll love our tape library – Oracle
Vendor bets that growing biz punters will cough for the SL150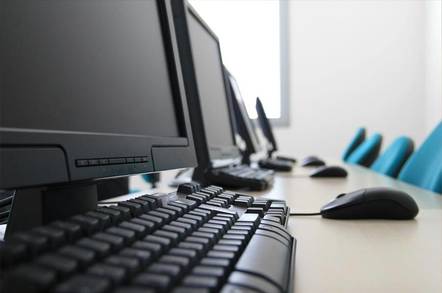 There's life in mid-range tape libraries yet, and Oracle has a new one, an SL150 chugging down data at 10TB/hour, faster than the competing kit from Quantum and Spectra. It's aiming the new kit at medium-sized businesses that are finding that they need a more grown-up storage solution.
Tape libraries are used for storing backup and archive data. Robot arms pick up cartridges and move them to and from drives under the control of host software, such as Oracle Secure Backup, Backup Exec, etc. But there is an ongoing trend towards moving from tape libraries to faster, disk-based, backup arrays – which use deduplication to bring capacity towards tape library levels. Up until now, the mid-range tape market has been pretty conservative in a new product introduction sense because of this. Spectra's T380 was introduced in March 2009 and the Quantum/ADIC Scalar i500 is a 2005 vintage product.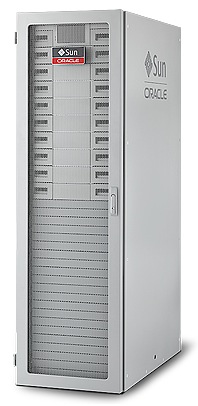 StorageTek SL150
Mid-range tape libraries occupy part-racks and full racks and generally store up to 2PB or so of raw data, using 10 to 20 LTO-5 drives and with something like a 50 to 500 tape cartridge slot range. These are approximate figures and the mid-range is defined as being above entry-level 1-4 drive autoloaders and small libraries and enterprise-class multi-rack monsters with 1,000+ slots, 100+ drives and 10+PB capacity.
Capacity is a movable feast because formats move on and LTO-6 will store twice as much raw, uncompressed data as the current LTO-5 format (1.5TB raw) and 2.5 times more compressed data – meaning a 100PB (compressed data) library using LTO-5 will theoretically hold 1 exabyte with LTO-6 tapes.
Oracle's new SL150 competes with Spectra's T380 and Quantum's Scalar i500 tape libraries on a slots and drives basis and we'll compare these three puppies, assuming the use of LTO-5 cartridges and drives.
The SL150 slots in below Oracle's SL8500 top-end library; its SL300, which can have up to 5,925 slots and 56 drives; and its SL500, with up to 575 slots and 18 drives. There is a gap in Oracle's product range between the SL500 and the sub-rack SL48 and 24 which have 48 and 24 slots respectively and 2 or 1 full-height LTO-5 drives or 2 and 4 half-height ones.
The SL150 has from 30 to 300 slots, one to 20 half-height HP-sourced LTO-5 drives, and up to 900TB of compressed LTO-5 capacity (450TB raw). It comes as a 4U rackmount base unit and up to 9 2U expansion units. The base and expansion units have 30 slots and 2 drives apiece. Cartridge inset and extraction uses 15-slot magazines. Communication with hosts uses either SAS or Fibre Channel. The library can be partitioned to support two host applications with each app having control on the tape slots on the left or right-hand of the library.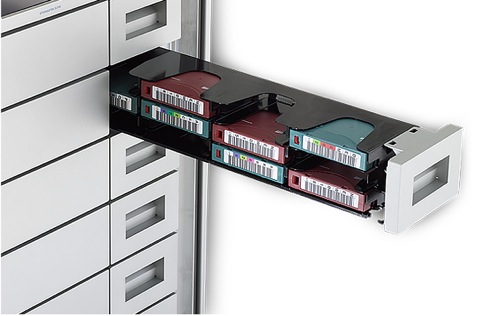 15-slot SL150 magaline
With 20 drives the SL150 has a higher bandwidth, at 10TB/hour, than Spectra's T680 with its 12 drives and 6.05TB/hour rate. It is also faster than Quantum's i500, which has up to 18 drives and a 9TB/hour bandwidth. Speed is not the main appeal of the SL150 though. It is customer-installable and customer-upgradable and has customer-replaceable spares.
Installation takes "as little as 30 minutes" according to Oracle, and is helped by an installation wizard. Expansion units are inserted into the rack, connected and powered and then auto-discovered by the base unit software using USB protocols.
Oracle says the SL150 has more slots and drives in the rackspace it occupies than the competition, up to 40 per cent is the claim. Oracle also boasts that it costs up to 75 per cent less than Quantum's Scalar i500 – though we've yet to verify this – and works in a wide set of open systems environments as well as the Oracle environment.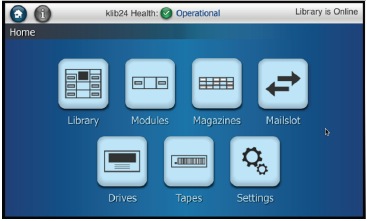 SL150 touchscreen display
The SL150 is managed through a touch screen on the base unit and by a browser-based user interface. Oracle says it has an elegant and intuitive interface. ESG senior analyst Mark Peters says: "The unique engineering of the SL150 is beguilingly straightforward," and it is a "junior thoroughbred." Beguiling indeed.
Oracle is demonstrating its belief that there are legs in the mid-range tape market yet. Tape library vendors are convinced that the twin trends of big data and public cloud computing will drive increased demand for high-end libraries to archive data. Oracle boasts that it has shipped over 2 exabytes of tape media for its StorageTek T10000C tape drives, used in the SL3000 and SL8500 libraries, since the drive's January 2011 launch. It has doubled the capacity shipped in just six months, suggesting ramping demand.
The mid-range library market is more problematic as archival capacity is low – or lowish, anyway – and backup is still moving to disk, apparently reducing the total addressable market. Mid-range library capacity will be boosted when the LTO-6 format comes in and that should increase its archive appeal.
There's more SL150 information available here. The SL150 has what Oracle calls "entry-level pricing." Oracle didn't announce detailed pricing or availability information. ®