Dell details plans for 'remixed' software strategy
Lots of hardware, software, service mash-ups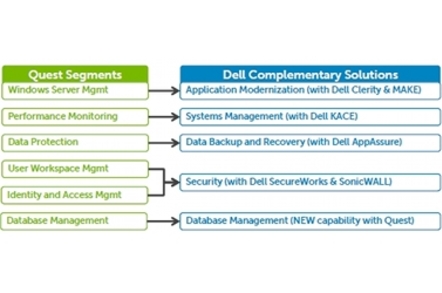 Dell has provided more details of its reinvigorated software strategy on Thursday, coming in the wake of its $2.4bn acquisition of Quest Software.
"This is a very interesting time to be thinking about going into the software business. There's more disruptive stuff going on than I can ever remember," said John Swainson, president of Dell's new software group, during a roundtable discussion in San Francisco.
Swainson is a veteran IBM exec who served as chief executive of CA from 2005 to 2009, after the departure of its disgraced former CEO, Sanjay Kumar. He was brought on to head Dell's software division in February.
Broadly, Swainson said, Dell's software business will be organized into four silos, including security, business intelligence, systems management, and applications.
Although the Quest acquisition has not completed yet and Dell is still trying to understand Quest's diverse software portfolio, Swainson said Dell is counting on its Quest properties to form the foundation of its software strategy. Along with Quest's portfolio, Dell's new software unit brings together products from a number of other recent Dell acquisitions, including AppAssure, Boomi, Kace Networks, Scalent, SecureWorks, SonicWall, and Wyse.
Swainson said to expect Dell to buy up more software companies, too, although he thinks another Quest-sized acquisition would be unlikely in the near term.
Swainson's mission is not to launch a standalone software business within Dell, but to build a software unit that can complement and augment Dell's existing products and services.
"Today, most of our customers buy PCs from us," Swainson said. "Some of them buy servers. And everything else trails off pretty quickly after that. In a perfect world, what we'd like to say is that most of our customers buy a broad range of products from Dell, including hardware, software, and services."
For now, however, Dell is shying away from enterprise customers, most of whom already have engagements with the big, established business software players. Instead, Swainson sees a sweet spot for Dell Software in what he calls "midmarket" customers – companies that have between 250 and 2,000 employees – a market that he says has been historically underserved.
Swainson admits, however, that by pursuing these customers, Dell will still inevitably clash with well-entrenched rivals, some of whom are long-standing Dell partners.
"We're not going to go pick fights with SAP and Oracle," Swainson said. "It doesn't mean we're not going to compete."
Swainson said Dell's software strategy is still developing, and that it plans to take different approaches for different products. It might try to grow some categories in the developing world first, for example, before trying its hand in the US market. It won't happen all at once, and it won't happen overnight.
"We're remixing Dell," Swainson said. "IBM took 20 years to remix a business that was hardware centered to one that was services and software centered. It's going to take at least five years – and probably longer than that – to complete this journey." ®