Barnes & Noble: You won't need a Nook to read our ebooks
Boldly goes where Kindle went in 2010
Bookseller Barnes & Noble has played catch-up with Kindle by launching a web version of its shop.
Nook for web – accessed via Barnes & Noble's library site – is a web platform that will make the store and a "reader experience" available on all major PC and Mac browsers – avoiding the annoying sign-in, a la Amazon's Cloud reader, as well as bypassing software downloads. It also means that punters don't have to own the Nook device to purchase and read the publishers' eBooks.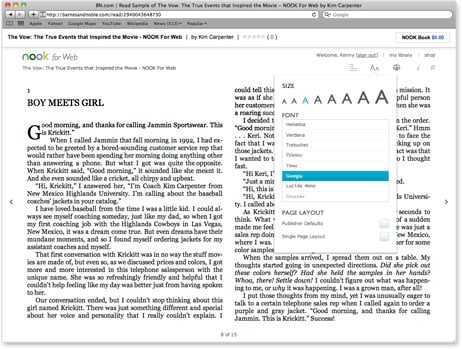 The layout of text in the Nook for web seen on Safari
iPad users won't be able to access the platform now, but a version of Nook for web optimised for the iPad's Safari browser is slated to arrive in the autumn. It seems likely that support for the Kindle Fire (which already has a web platform hosted on Amazon's cloud) and iPhone and Android will come then too.
B&N are giving away six popular books (two romances – including Sex and the City, a thriller, a travelogue and two for the kiddies) for free as an introductory offer. Doubtless Reg readers are above that sort of stuff, but sample pages are available to browse should you wish to do so and looks like the format is clear and readable.
The Nook ereader has surprisingly successful for Barnes & Noble, but is being squeezed in the competitive tablet market with fierce competition from Amazon and Apple. Moving to a web store allows B&N to realign their focus towards book-selling and away from the hardware manufacturing. Something that its CEO seemed keen to do in April when the Nook part of the business was spun out into a subsidiary. ®
Sponsored: Becoming a Pragmatic Security Leader