Nasa guides Mars Rover with Kinect
Lunar Lander de nos jours
Nasa has launched a free game for Kinect owners which sees players guide the Mars Rover through its landing sequence.
The game - a joint venture with Smoking Gun Interactive - puts players through the "seven minutes of terror" landing procedure, which makes use of Nasa's as-yet-untested system for reducing the vehicle's speed ahead of its Martian touchdown.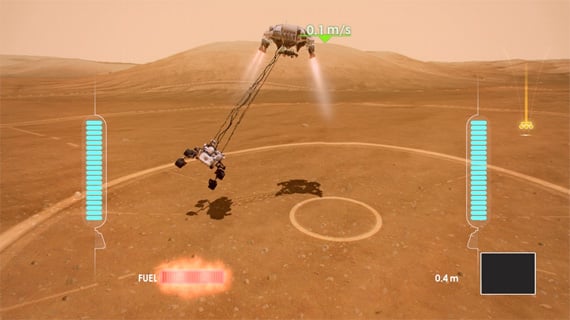 Wave hello to the Martians
Would-be probe landers can access Mars Rover Landing through the Xbox Live Marketplace or alternatively a forthcoming area on the Xbox 360 dashboard dedicated to the Curiosity rover.
How the actual landing, due in two weeks' time, will turn out is anyone's guess, but at least now you can perform your own dry run by waving your hands in front of the telly. As long as you're not too 'outta space' for Kinect, of course. ®
Sponsored: What next after Netezza?