Oatmealer rubs Operation Bear Love cash in troll's face
Overmatched FunnyJunk lawyer yanks legal action
The strange saga of the Oatmeal creator and the litigious troll has come to an end, with the public display of $211,223.04 arranged in a large FU.
Cartoonist Matthew Inman collected the money after receiving a letter from a lawyer representing FunnyJunk over comments Inman made in his blog a year ago about the comics aggregation site using his material to drive advertising. The lawyer, Charles Carreon, asked for $20,000 in damages and the removal of the offending material.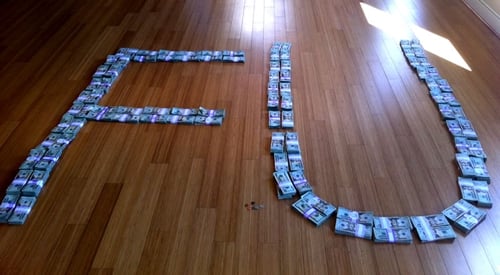 A subtle message from The Oatmeal
In response, Inman launched Operation Bear Love, a quest to raise the same amount of money for the American Cancer Society and the National Wildlife Federation. He promised that when $20,000 has been raised for charity, he would send a picture of the money to Carreon, along with a framed cartoon of the mother of FunnyJunk's owner seducing a Kodiak bear.
The campaign took off, and within a few days Inman had raised over $200,000. Carreon, however, filed a suit against Inman and the online collection site Indigogo to freeze the money and stop it being contributed to charity. But when the EFF signed up to defend Inman, Carreon backed down.
"Matthew Inman spoke out against Carreon's threat of a frivolous lawsuit, in a very popular and very public way," said EFF senior staff attorney Kurt Opsahl. "This was nothing more than a meritless attempt to punish Inman for calling attention to his legal bullying. We called him out on this in our briefs, so it's no surprise that Carreon was left with no choice but to dismiss."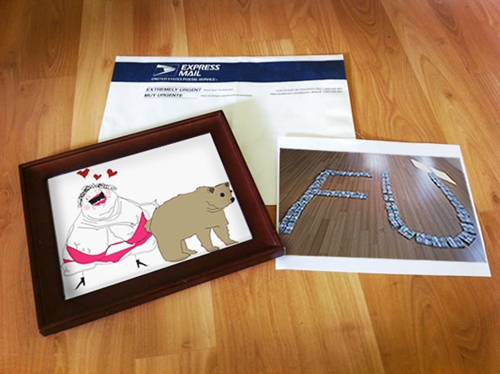 Carreon's care package
The photo and cartoon are now winging their way to Carreon, although it's doubtful he'll be hanging them up anywhere public – or adding Inman to his Christmas card list. ®