Ghost In the Shell: Stand Alone Complex: Solid State Society on Blu-ray
Section 9 regroups for one more case
More of the same?
The soundtrack is extremely well produced and the music is pretty good, if a little lost behind the talking and occasional gunfire, but this is the same as on the DVD that came before it. Even a bundled OST audio CD might have been nice to have, but there you go.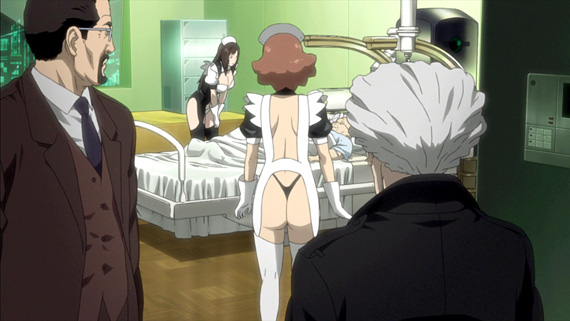 Another example of that private health insurance. Where do I sign?
The Blu-ray extras are also the same as those on the earlier DVD release: a making-of documentary, a piece about the mini Tachikoma robot built for the launch party, a piece about the Nissan-designed concept cars seen in the film, a short Uchikomatic Days animation (GITS:SAC fans will understand the joke), interviews with the production teams in Japan and the US, and trailers. None of the video documentary stuff appears to be in native hi-def.
Verdict
If you already have Solid State Society on DVD, don't buy the Blu-ray release: there's nothing to be gained. However, if you don't, you may find the five-year-old DVD harder to source than expected. If the alternative means paying £20 or more for an import copy or wasting a fiver on a scratched, second-hand pirate disc from eBay, the brand new Blu-ray release doesn't seem quite such poor value after all. And if you're any kind of GITS:SAC fan, you will like Solid State Society very much indeed. ®
More Blu-ray Movie Reviews…

The Beatles
Yellow Submarine
Blu-ray disc set
Monty Python
and the Holy Grail
Blu-ray disc set
Aliens
Blu-ray disc set
Akira remastered
Blu-ray disc set
Star Wars:
The Complete Saga
Blu-ray disc set

Ghost In the Shell: Stand Alone Complex: Solid State Society on Blu-ray
A fine sci-fi anime thriller OVA on Blu-ray but with no additional content to the now scarce DVD.