IT pulls its job creation weight in June in the US
Be nice if somebody else took some of the weight
A lot of things might be sizzling or even on fire right now in the United States, but job creation is not one of them.
The monthly jobs report put out by the US Department of Labor is sure to put everyone in a bad mood for the long, hot weekend, with the Bureau of Labor Statistics reporting that only 80,000 jobs were added to the economy in June. That's fewer than the 100,000 expected by economists and considerably lower than the 200,000 or so new jobs that the economy has to create each month to keep pace with population growth.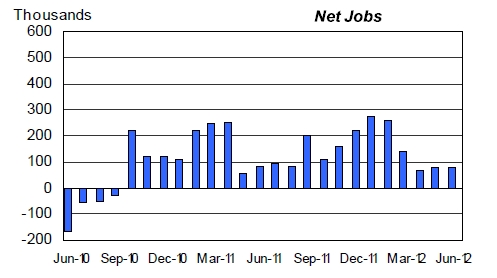 Job creation by private enterprises has been a third of what it needs to be
In the second quarter, the economy averaged 78,000 net new jobs per month, compared to an average of 226,000 for the first quarter. That average for the second quarter is a little higher than expected, since the BLS has revised upwards the number of jobs created in April (from 68,000 to 77,000) and in May (from 69,000 to 77,000.
That job creation rate is about a third of what it needs to be, and it needs to be a lot higher to create work for the 12.7 million people who are looking for work and can't find it and are therefore on the official unemployment rolls in the USA. The general consensus is that there are as many people who would work if they could but who have stopped looking because they have not been able to find work for a long time, and therefore are not counted among the unemployed.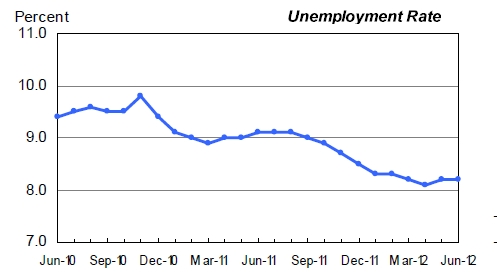 The US unemployment rate holds at 8.2 per cent
Governments at the local, state, and Federal level had briefly stopped slashing jobs earlier this year: but in recent months they've slashed their payrolls as they did during the Great Recession, although admittedly at a much less severe level. Since the Obama administration started, 633,000 jobs have been slashed in the government sector (at all levels), and 4,000 more jobs were cut in June. There were 169,000 government jobs cut in the last twelve months.
As has been the case since that Great Recession, the professional and business services segment was a key driver of job growth, and added 47,000 net new workers in June. Of these new jobs, 25,000 were for temporary workers in the accounting field, presumably to cope with late tax payers, who should have gotten their forms in to the IRS on April 15. Over 1.5 million workers have been added to the professional and business services sector since September 2009, when this sector dipped to its lower level. The manufacturing sector added 11,000 workers, more or less in line with the prior two quarters and considerably lower than the average of 41,000 workers per month during the first quarter. Healthcare companies added 13,000 workers in June and wholesalers added 9,000. Other industries were more or less flat.
The Good Bit
Every month, El Reg comes up with a proxy for IT employment culled from bits of the BLS jobs report. We have to do this because the US government doesn't track jobs by title, which would be very useful, but instead tracks jobs by the industry sector where people work. Both sets of data are necessary, obviously. And we look at the raw data instead of the seasonally adjusted data because it is our contention that in this economy, for these sectors, the raw data is actually more indicative of what is going on in the IT proxy.
In the manufacturing area, computer and electronic products makers added 7,600 workers, with a total of 1.12 million people employed in this area. Computer and peripheral equipment makers inside this broader group had 165,900 workers, up 2,000 from May, and communications equipment makers employed 109,700, up 600 from May. Semiconductor and electronic component makers employed 389,900 people, up 2,300.
Telecommunications firms, which are technically part of the information industry sector according to the BLS, had 827,500 workers, up 900 from last month, but data processing and hosting companies cut 400 jobs, to 242,800 workers.
Within the professional and business services sector, which has a total of 18 million workers, those engaged in computer systems design and related services added 10,000 workers in June, with an aggregate payroll of just under 1.6 million workers. Management and technical consulting services firms, which often have an IT aspect to their work, added 15,800 workers and have 1.14 million employees across the country. ®