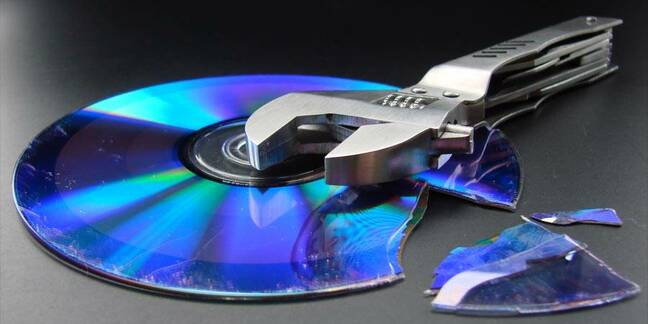 The chip market is growing again after slumping a bit in the past several months, holding out hope for semis that the growth rate in the second half of the year will be sufficient for the industry to eke out some increases for the full year. It all hangs on whether the global economy and the insatiable desire of consumers for electronics both hold out.
The Semiconductor Industry Association calculates global sales across all types of chippery on a rolling three-month average, and in May – the latest month for which the SIA has data available – chip revenues worldwide came to $24.39bn, up 1.4 per cent from the rolling average in April.
"The upward trend of global semiconductor sales is encouraging," said Brian Toohey, president and CEO at the SIA, in a statement. "Recent sales totals are in line with industry projections of modest growth for the remainder of 2012, but a sluggish global economy continues to provide substantial headwinds, limiting more robust growth."
That quarter-on-quarter growth was driven by chip sales in the Asia/Pacific region with a tiny contribution from Europe – and despite declines in Japan and the Americas region. But while this is a good sign, on a year-on-year basis, chip sales are still slumping everywhere but in Japan.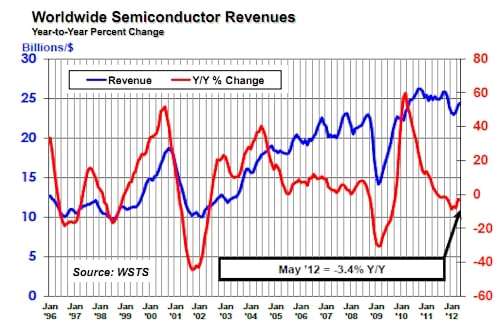 Chip sales declines are trying to reverse and head for positive territory
Specifically, sales in the Americas were off 3.2 per cent year-on-year to $4.48bn, and in Europe were off 13.6 per cent to $2.84bn. Chip revenues even dropped 1.9 per cent in the Asia/Pacific region compared to May 2011, but Japan, working against an easy compare last year because of the economic downturn in the aftermath of the earthquake and tsunami that rocked the nation last March, actually eked out four-tenths of a point of growth to $3.35bn this May.
The SIA relies on statistics from World Semiconductor Trade Statistics (WSTS), and has not yet issued its own forecast for 2012, above and beyond saying that it expects for there to be growth relative to 2011. But WSTS put out its own forecast last month, and said that it expects for "less-than-average growth" for chip sales in 2012. So don't get too excited.
WSTS is projecting for global chip sales to rise by four-tenths of a point to just under $301bn in 2012. WSTS says that most integrated circuit categories will see little growth this year, with the exception being optoelectronic chippery.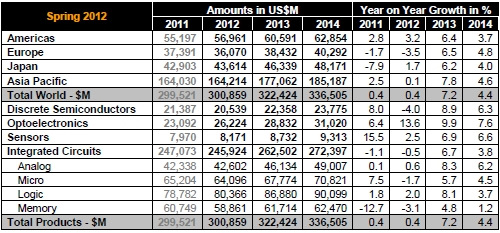 WSTS semiconductor May 2012 forecast
And like many people making optimistic projections, which assume things always get better in the future and return to something close to "normal", the chip counters at WSTS say that the semi market will see a 7.2 per cent bump in 2013 to hit $322bn and will rise by 4.4 per cent to $336bn in 2013. We'll see. ®
Sponsored: Ransomware has gone nuclear