The touchscreens that push back, thanks to Brit hi-fi boffinry
NXT's rise, fall and rise from helicopters to fondleslabs
Touch me, please
HiWave has managed to solve the bass issue by developing and supplying their own amplifier chips and applying their transducers to harder materials such as Corning's Gorilla Glass, which graces the front of every device worth its salt these days.
A pair of HiWave transducers can turn a window into a speaker, but they have the same effect on a tablet screen and the engineers managed to work around the previous requirement of mounting the screen on a foam base - which was never going to fly with modern tablets.
Now a HiWave speaker can be integrated into the glass front of a fondleslab as long as HiWave gets to specify the glue used to attach it. Considering how much space speakers take up, including the audio cavity necessary to get decent sound, there should be a considerable interest in embedding the technology even if the company still needs to get the transducers a little smaller.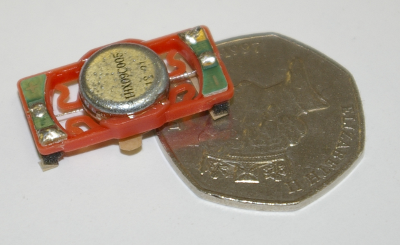 By only firing one of a pair HiWave can replace the phone's talking speaker too
But once they're there the vibrational effect of the transducers could, potentially, make the concept of haptic feedback into a useful reality.
HiWave has created a demonstration block which senses not only touch but also pressure. With that flexibility it's able to pose as a physical switch: rest a finger and nothing happens, press harder and at a specific pressure the button "clicks", relax and the button "clicks" again.
Sound and vibration are delivered direct to and from the screen, rather than the device, making the experience disarmingly unbelievable (the HiWave chaps had to disconnect the power before we'd believe there wasn't a mechanical switch hiding somewhere).
The technology cracks haptic feedback, no question. If anyone wants to recreate the sensation of pressing a mechanical switch on a touch screen then this is the technology which can do it: now the question is if anyone wants to do that, and if they're prepared to add pressure sensitivity to make it happen.
HiWave can do more than just ape a mechanical switch, though that's the most impressive demonstration, but all the coolest stuff requires pressure sensitivity which isn't available on the current generation of capacitance-detecting touch screens.
The company reckons that in-vehicle applications aren't so attached to capacitive screens, so they could sell there, but it also claims to have come up with a killer application which will drive adoption of pressure sensitivity, and thus enable them to sell haptic gear. Sadly the company won't say what that is until the patents are drafted, so we're asked to trust that it is as compelling as the company claims.
Twenty years ago NXT was a really cool technology with huge potential, desired by early adopters who confidently predicted great things for the company. Now it's 2012 and the technology is still really cool, the potential is still huge, but it remains far from clear if HiWave will be able to make it happen in the way that NXT has failed to do. ®