BT broadband packs up again - second big outage in a fortnight
'We're really sorry', sniffs enormous telco
Updated BT has once again suffered what appears to be a major network outage affecting what the company described as "multiple areas".
A simple update on BT's customer status page currently reads:
We're really sorry but we've got a problem at the moment affecting our broadband service, which means that some of our customers will be having trouble getting online. We're trying to fix the problem as quickly as we can.
Details are scant, although BT is saying it hopes to have the unknown cause of its broadband titsupness fixed by mid-afternoon.
Meanwhile, plenty of complaints about the broadband outage are starting to pile up on Twitter.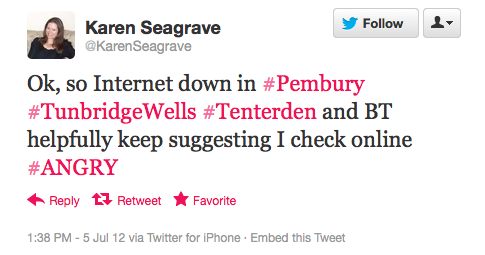 We've contacted BT representatives for comment, and The Register will update this story as soon as BT has more information.
Late last month, BT struggled to get its broadband service up and running in parts of the capital and across the southeast of England after it was hit by a previous massive outage. ®
Updated to add
A spokesman from BT said this afternoon: "Earlier today, a network fault that meant broadband service for some customers in and around London was not available for just over an hour. The fault is now resolved and we are advising customers to reboot their hubs if they are still experiencing problems."
Sponsored: Detecting cyber attacks as a small to medium business