Apple to build freakish headgear with peripheral vision
Files patent to fill fanbois' fields of vision with shinies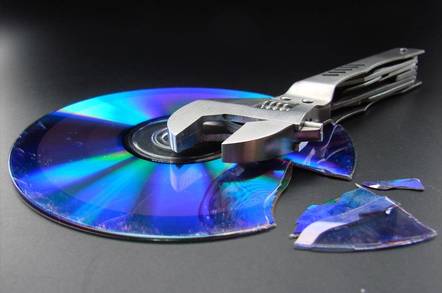 Apple has filed a patent – number 8,212,859 – for the treatment of peripheral areas in a head-mounted visual display... iGlasses anyone?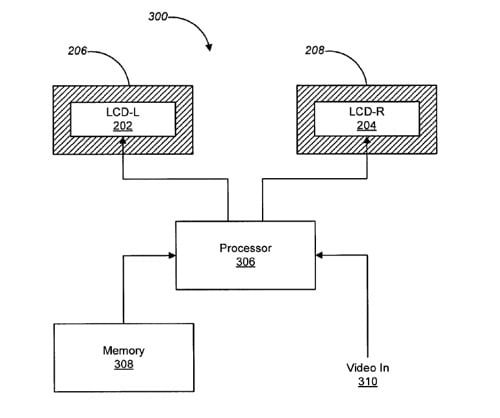 IT elements in Apple HMD patent
The patent is not about the design of any particular type of head-mounted display (HMD) but rather around how one treats the peripheral area in the field of view so that it blends in or converges with the displayed image. The patent text notes that the display – an image or a movie say – fills the central field of view but not the periphery, and users get a kind of tunnel or box vision effect, like looking at small screen at a distance, which is unsettling. It states: "Peripheral vision is good at detecting motion and as a result, occluded peripheral vision in HMDs can cause a user to experience motion sickness symptoms after some time.
"There is a continuing need for improved HMDS that provide enhanced long-time visual experience for the user."
What the patent describes is a way of, for example, colour-biasing the peripheral field of view so that it dynamically matches the predominant colour of the displayed image or movie.
The patent describes elements of an HMD that will perform this function, including a user input facility, a video-in facility, memory for storing data and a processor for computing the displayed items in the central and peripheral fields of view.
The patent text mentions audio: "[T]he HMDs … can also be equipped with an audio system … This will allow the user to watch feature movies … the user experience in viewing movies … can be as good, or even better, than what a user experiences in a movie theatre."

Google glasses
The implications that we can draw from this patent are vast. An Apple implementation of something like Google Glasses would be a revelation for fanbois. They could finally make a Jonathan Ive designed piece of iKit part of their faces.
The device would be a natural for an app ecosystem, providing things like tailored tour guide glasses: go to the Louvre, the Grand Canyon, Yosemite, the White House, a museum, and the glasses could present text, image and video information to augment the wearer's experience.
A pedestrian GPS (sat-nav) system is another obvious implementation.
They could be used for training, with instructions on how to disassemble and diagnose problems in complicated pieces of equipment, such as cars, airplanes, power plants – even the human body.
An Apple iGlass implementation would be a wearable computer with visual data presented to the eyes, audio to the ears, and some form of synching to a Mac host or the Apple cloud. Could Apple do this? Yes. Will Apple do this, concerned as it appears to be with getting Apple TV right? Maybe so. Maybe, right now, Apple has an iGlass project team beavering away… ®
Comments to the Reg's Apple forum please.
Sponsored: How to Process, Wrangle, Analyze and Visualize your Data with Three Complementary Tools