AMD and Intel mainstream desktop CPUs
Cheap as chips?
Review It's fair to say that Intel has the very high end desktop processor market pretty much to itself, however, it's a different story in the lower end of the food chain. Although Intel – through the sheer number of different processors it offers – seems to have it all its own way, AMD does make a good fight of it at a number of price points. Indeed, the sheer number of affordable CPU's to choose from presents the consumer with a bewildering choice.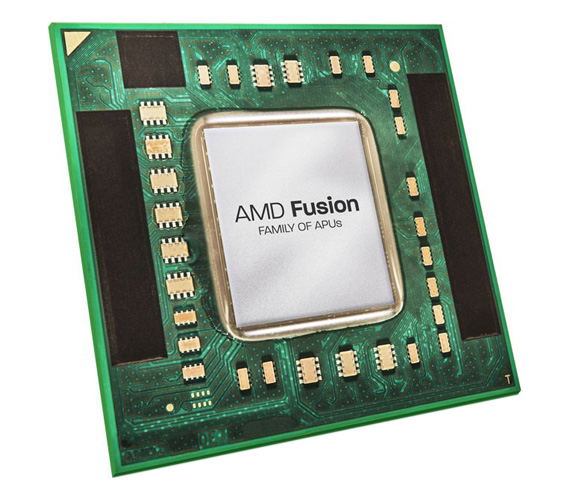 AMD's APUs support DirectX11 and perform some neat GPU integration tricks
At the time of writing, no low-end Ivy Bridge processors had surfaced, instead, Intel's Sandy Bridge CPUs occupy the lower end of its mainstream offerings. The AMD alternative being the company's A series of Llano APUs. Much like the situation with Intel's third generation budget Core i-series CPUs, AMD's second generation Trinity APUs for desktop PCs are on the horizon too.
Incidentally, an APU or Accelerated Processing Unit is AMD's terminology for a processor with integrated graphics built into the die, in a similar way to Intel did with Sandy Bridge.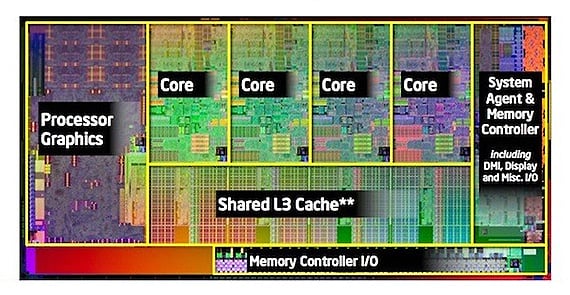 Intel Sandy Bridge die detail
Although it has to be said that the graphics technology in the AMD architecture is more advanced than what's found in Sandy Bridge. One of its biggest advantages is that the AMD chips fully supports DirectX11, something that Intel has only just implemented in Ivy Bridge's integrated graphics architecture.
The APU 32nm architecture is known as Llano, with the desktop components carrying the Lynx codename. The current Lynx offerings appear in three product lines, the A4, A6 and the top-of-the-range A8. The A8 and A6 APUs are all quad-core processors, and all support 1866MHz DDR3. The one exception being the A6-3500, which has three cores. The A4 processors are all dual-core and only support DDR3 speeds up to and including 1600MHz.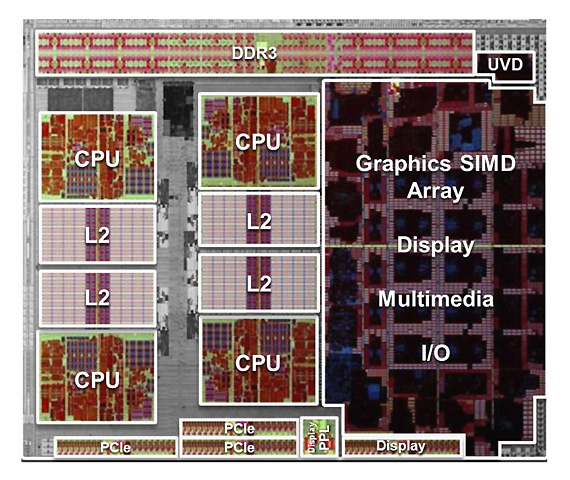 AMD Lynx board detail
Apart from its integrated graphics, the Llano architecture also supports Dual Graphics. This is a neat AMD tyechnology that enables a low-end discrete graphics card – AMD recommends HD6670, HD6570 or HD6450 as the options to choose from – can be used in conjunction with the on-board graphics; combining to deliver a better overall performance.
Sponsored: Practical tips for Office 365 tenant-to-tenant migration