Anyone who doubts that the cane toad will ultimately gain supremacy over Australia is directed to the Northern Territory News, which has a chilling story on a hexaped mutant Bufo marinus captured south of Darwin.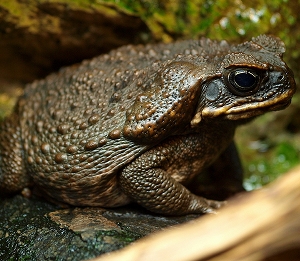 Bufo marinus (aka cane toad) - with a paltry four limbs.
Pic via opencage.info licensed under Creative Commons
Cane toads were disastrously introduced into Northern Queensland from Hawaii in 1935, and have since spread 3,000km across Oz. In the process, they've developed longer legs to speed their invasion, and more recently deployed an experimental fifth leg, presumably in an attempt to gain extra hopping power.
This evidently proved inadequate, since the individual spotted last week in Batchelor, 42km south of Darwin, has no less than six legs.
Mercifully, toad-catcher Savvas Christodoulou noted that the beast's additional limbs didn't actually enhance its mobility. He said: "He was more clumsy than normal. I hope there's no more."
In fact, there are. The NT News notes that another six-legged batrachian variant was bagged in Queensland last year. ®
Sponsored: Practical tips for Office 365 tenant-to-tenant migration