Atari turns 40: Pong, Pac-Man and a $500 gamble
Did 1980s joystick deathgrip give you a claw hand?
Attack, attack, attack!
Atari had a growing stable of titles but it was one arcade hit that really made the 2600 stand out: games publisher Taito's Space Invaders, in 1980, racked up one million sales. The most successful game for the Atari 2600 was Pac-Man, also in 1980. Pac-Man had been designed and built by Toru Iwatani at another publisher, Namco, initally as an arcade game for women and couples. Legend has it that Iwatani decided to base the game on eating and Pac-Man is a pizza with a slice missing.
The decision to attract women gamers and novices is what made Atari special and successful, and that helped it consolidate its name rather than becoming just another games console consigned to history. Alcorn outlined the Atari philosophy here and the philosophy remains a goal for today's games makers as they try to grow.
Of course there were detractors of Pac-Man on Atari: the original arcade game snobs who complained the ghosts on the Atari 2600 flickered. Such people were in the minority and Pac-Man is the 2600's best selling game with seven million units shipped.
If the Atari 2600 had one fault, it was the joystick - all stick, little joy. With no apology to design, Atari's basic controller wasn't molded to your hand, it was all stick and that meant endless hours of Pac-Man followed by Battlezone for your correspondent resulted in painful claw-hand syndrome in Christmas 1982.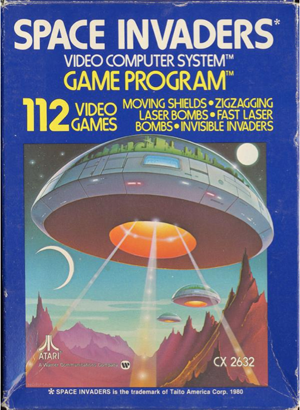 In your space: the Atari 2600's first big hit
This was Atari's high-water mark. Bushnell himself had left in 1977 to create Chuck E Cheese pizza restaurants, beloved of US children because it combines pizza and game play. Atari, meanwhile, was split in two in 1984 and sold on the back of what became known as the North American video game crash between 1983 and 1985 when revenues dropped by 97 per cent. Atari, and others, had become too successful - they'd saturated the available market and seemed unable to grow outside of what they had.
That 1984 split produced Atari Consumer Electronics which was sold to Commodore 64 father Jack Tramiel. This produced the Atari ST and XE Motorola-based GUI PCs - called the Jackintsosh after Apple's first Macs in 1984. The machines lived briefly when a thousand terminals bloomed before the Wintel alliance was forged and blew everybody away.
The PC biz was next merged with JT Storage and then sold to Hasbro Interactive in 1998 before finally being bought by IESA to become Atari Interactive in 2003.
Atari Games, also formed from the 1984 split, reserved the rights to use the Atari logo and brand, and run on the games hardware developed between 1972 and 84.
Circumstance was not kind to Atari: the victim of its own success, it was never cash rich enough to scale up and out. It was sold, split, sold and re-sold again. Yet, Atari defied the odds: elbowing itself into the world's front rooms with Pong and staying there to the delight of a generation.
Atari may not have published Pac-Man or Space Invaders, but the games and the Atari name live on because of each other. Atari continues to make games - it's celebrating the 40th anniversary with 40 giveaways in four days sweepstakes for US residents on Facebook here - while last year it brought a selection of the classics to the AppStore for Apple phones and tablets. Other titles including Pac-Man you can play as Flash through a browser, here.
Not bad for a company Bushnell had wanted to call "Syzygy". Who'd want to remember that? ®
Sponsored: Detecting cyber attacks as a small to medium business