Apple iPhone turns five this Friday
Staggering money spinner - and that's just the hardware
The iPhone first went on sale five years ago this week and it has already clocked up more than $150 billion in revenues - more than the annual GDP of Hungary - for Apple.
More than 250 million iPhones have been sold since 29 June 2007, the day over-the-counter sales began in the US, almost six months after its January 2007 launch.
That's just the hardware, of course. Apple takes a 30 per cent cut of the purchase price of ever app downloaded through the iTunes App Store, and with well over 30 billion apps downloaded since the app shop went online on 10 July 2008.
Apple netted $1.9 billion in iTunes revenue in the three months to 31 March 2012, though that includes music, video and e-book sales as well as apps. Kerching.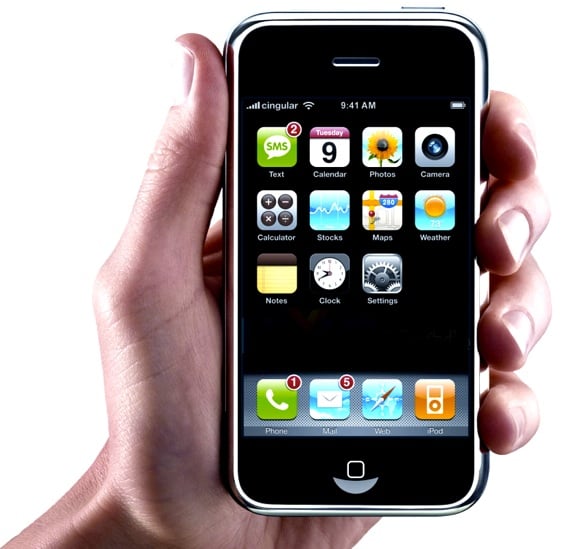 But Apple may have a less easy ride during the next five years.
"There are emerging signs that the iPhone's next five years could get tougher," said Neil Mawston of market watcher Strategy Analytics.
"Some mobile operators are becoming concerned about the high level of subsidies they spend on the iPhone, while Samsung is expanding its popular Galaxy portfolio and providing Apple with more credible competition."
The original iPhone, lest we forget, was a 2G device with GSM/Edge data connectivity. Its 16 bundled apps - it couldn't run third-party native software, only JavaScript-coded "web apps" in its browser - ran on a 400MHz Samsung ARM11-based S3C6400 CPU and were presented on a 3.5in, 320 x 480 display.
There was no external storage - there still isn't - and the battery was tightly integrated into the casing - it still is. It has a 2Mp camera and 4-16GB of on-board Flash storage.
But the iPhone introduced the world to smooth touchscreen operation, its capacitive panel outclassing the less sensitive resistive screens commonplace at the time. Likewise, it introduced roll, pitch and yaw detecting accelerometers, now found on every smartphone. Likewise Wi-Fi.
Compared to the rivals of the time - Windows Mobile 6 had been released the previous February, Symbian S60 was a version 9.3 and Palm OS Cobalt was still desperately looking for supporters - iOS arrived as a breath of fresh air. It certainly had its shortcomings - no third-party apps, for staters - but it quickly began to define a smartphone feature set its rivals hastily tried to follow. ®