Super Micro fattens up Xeon E5 nodes with FatTwins
Crammed with fat memory or fat disk – you pick
The chassis is the new rack, at least for customers who want cheap server nodes and none of that fancy schmancy management software that comes in blade servers, but who do want the density and shared power.
So Super Micro, an early maker of half-width motherboards that allowed servers to be double- and quadruple-stuffed with its Twin machines, is now coming out with a beefier generation of machines known as the FatTwins.
True to their name, the FatTwin chassis have more heavily configured server nodes, but they do not offer any server node density advantages over the earlier Twin2 machines announced back in September 2009. Those machines could cram four half-width servers into a 2U chassis, and the FatTwin can do eight half-width nodes in a 4U chassis.
The difference with the FatTwin design is that it is made to accommodate higher nodes with bigger SATA disks, and the machines have more compute power and more main memory as well; you can put four of these in the 4U chassis.
The fattest server nodes in the FatTwin have as much memory and storage capacity as you see crammed into a 2U server with only two-socket one server node, and that is the relevant comparison and this still yields a 2X density improvement over those generic rack servers. Which, by the way, Super Micro makes mobos for and which Super Micro will sell you itself if density is not an issue that you are willing to pay a premium for.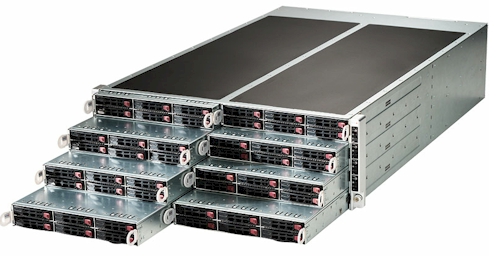 Super Micro's 8-node FatTwin server
The initial FatTwin machines are based on Intel's Xeon E5-2600 processors, but it stands to reason that Super Micro will offer variants using Advanced Micro Devices' Opteron 4200 and 6200 processors and very likely the cheaper Xeon E5-2400 processors as well at some point.
The SYS-F617R2-R is the FatTwin machine that uses the thinnest of the nodes and that can put up to eight in the FatTwin chassis. The nodes themselves are hot-pluggable into the power supplies that feed them, and you can take one node out without disturbing the others as they run.
The chassis has four 1,620 watt power supplies rated at 94 per cent efficiency, which is a serious upgrade over the Twin2 machines. Each node has two E5-2600 processors and 16 memory slots, for a maximum of 512GB total if you want to shell out the bucks for 32GB memory sticks. You can also run that memory at 1.6GHz when the machine is fully loaded with the heavy sticks, by the way.
The mobo has two PCI-Express 3.0 slots: one low-profile x16 slot on a riser card and one micro-low-profile x8 slot. It has two Gigabit Ethernet ports and an optional SAS2 LSI 2208 RAID disk controller that can snap into the board that supports RAID levels 0, 1, 5, 6, 10, 50, 60, and 99. (OK, there is no RAID 99, I just made that up.)
Each node has six 2.5-inch hot swap bays for SAS or SATA drives. With the earlier Twin machines, there were six drives shared across four nodes, and the balance was all off. The balance is still not perfect for all workloads – Hadoop likes to have one big ol' fat 3TB drive per CPU core these days – but it is a lot better.
If you like big, fat, juicy, and cheap SATA drives, then the SYS-F627R3-F version of the FatTwin. This one puts four two-socket server nodes that are twice as high (2U high, in fact) as the ones above into the machine.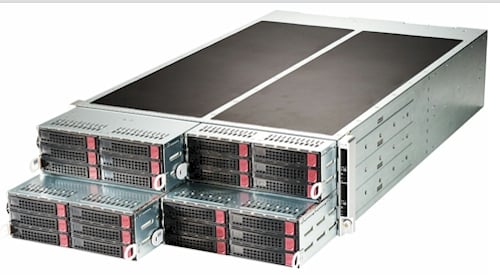 Super Micro's 4-node FatTwin server
The fattest FatTwin has four 1280 watt power supplies, rated at 95 per cent efficiency, and the taller nodes mean you can shift to fatter and cheaper 3.5-inch SATA disks, of which each node can have eight drives – six in the front and two in the back.
So if you go with the cheap four-core Xeon E5s, you can make a credible case for these fatter nodes of the Fatties to be used for Hadoopery. These nodes also have an optional LSI 2308 disk controller for SAS drives with RAID 0, 1, and 10 support.
The fat-disk variants of the FatTwin server nodes only support half as many memory slots, at eight, and therefore only up to 256GB of total memory using 32GB sticks. There's also no room for any peripheral expansion excepting one PCI-Express 3.0 x16 slot on the riser card. There is a two-port Gigabit Ethernet NIC on the mobo for networking.
With either node type, you can put in a faster Ethernet or InfiniBand network adapter if Gigabit Ethernet is cramping your code. In this case, Super Micro is favoring the switch-hitting ConnectX-3 FDR InfiniBand/10GE adapters from Mellanox Technologies.
The FatTwin nodes slide in from the front and have the disks mounted in the nodes rather than in the chassis, and that helps make the system admin's life easier and also allows the nodes to be hot plugable individually.
On last thing: These FatTwin machines are certified to run at anywhere from 0 to 47 degrees Celsius, which means you can use outside air cooling – a key thing for modern hyperscale data centers and HPC centers which are tired of running up the electric bills.
Pricing on the new FatTwin machines has not been set yet. Super Micro tells El Reg that production of the FatTwins is ramping up now, and that shipments will begin in mid-July. ®
Sponsored: Detecting cyber attacks as a small to medium business