Western Digital My Book Thunderbolt Duo
A Mac's best friend?
Testing times
Using the default out-of-the-box configuration, the Thunderbolt Duo offers some seriously stonking bandwidth. Three large test files, including a couple of ISO disk images and totalling 11.84GB, could be written to and from the disk in under a minute. I clocked 55 seconds for a write, and 58 seconds for a read. In mirrored configuration this dropped a little to 89 seconds to complete the write. But still pretty impressive.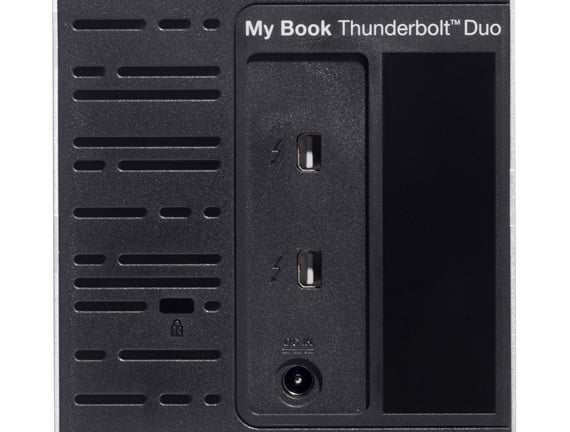 Thunderbolt thoroughbred: no other interfacing offered but the two connectors enable daisychaining
I also threw a data set of mixed-size files, that's much more typical of a regular backup, at the Duo. This included a copy of a well-used user folder, and comprised 25,141 files totalling 6.74GB. In striped configuration this was written in just 70 seconds.
Thanks to Thunderbolt, long backups are completed in the blink of an eye, and real-time editing of large files can be performed on locally-attached storage without the traditional performance penalties.
CrystalDiskMark 3 Results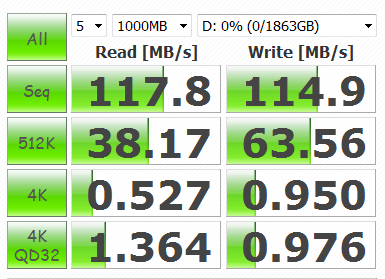 Apple supports Thunderbolt in Boot Camp for Windows users, although the performance suffers
I also cranked up Crystal Diskmark 3 – and the results...? Meh? Meh. No, that's what I thought, too. This is on a par with a USB thumb drive; the Windows drivers supplied aren't really ready for prime time.
Back on Mac OS X, tests took slightly longer with the Duo configured for RAID mirrored - not surprisingly, as two copies of the data are being written. Even so, copying time was not seriously longer. The ISO test set was written in 89 seconds (vs 55 for striped) and the small-files set in 97 seconds. From these tests at least, it averages out at around 215MB/s for the large file stripe write and 133MB/s when mirrored. Both drop to about half their respective scores with the small file writes.

Unscientific, yet typical, everyday copying task results
Impressively, the Mac's Activity Monitor utility barely showed any incremental CPU strain during the reads or writes. The unit itself remains cool and quiet. It's nice to find a manufacturer who realises that heat rises, and puts the ventilation grilles where they should be.
The software is straightforward, and I only detected one minor glitch. Attempting to change the RAID configuration, the RAID utility fails if the drive is already mounted.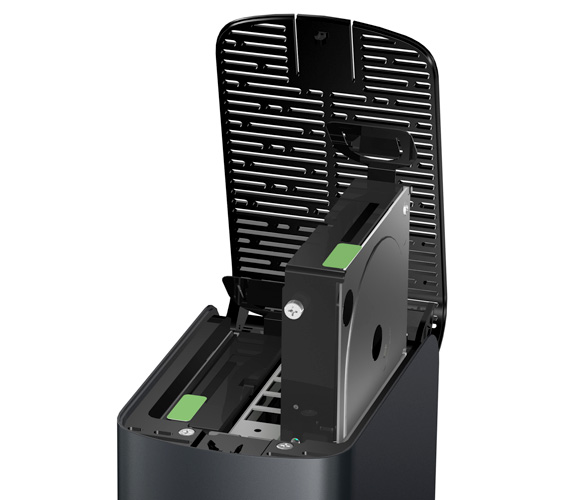 Disk removal is the same for all current My Book Duo drives – note the ventilated lid
Verdict
It's very fast, and if you edit large media files then Thunderbolt storage must be on your shopping list, given that it leaves the CPU unflustered. Yet in more typical real-world scenarios – with smaller individual files sizes – it's fair to say that with USB 3.0 drives consistently notching up over 100MB/s, Thunderbolt has some serious competition to win over mainstream users. ®
More Storage Reviews

Ten... SATA 3
SSDs
Ten... two-bay
Nas boxes
Ten... FireWire 800
hard drives
Western Digital
My Passport
Studio
Ten…
Desktop
USB 3.0 HDDs

Western Digital My Book Thunderbolt Duo
Capacious Thunderbolt dual-disk desktop storage option for owners of recent Macs.
Price:
£450 (4TB), £550 (6TB) RRP