Western Digital My Book Thunderbolt Duo
A Mac's best friend?
Review It's over a year since Apple began shipping Macs fitted with next-generation high bandwidth Thunderbolt ports, and they're now in the hands of millions of punters. But with Thunderbolt peripherals still few on the ground, they're all dressed up with nowhere to go.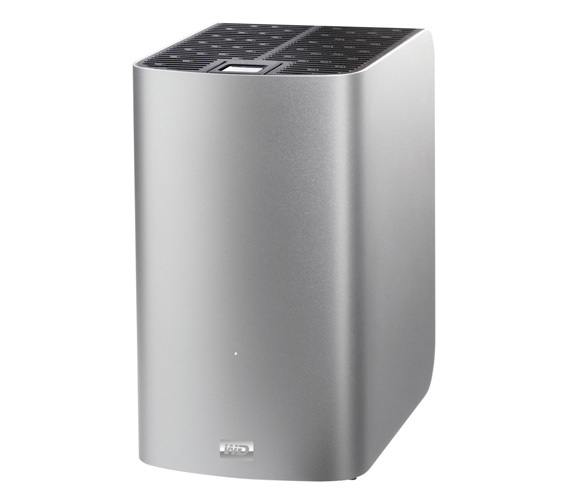 Mac aware: Western Digital's My Book Thunderbolt Duo
The trickle of devices that can take advantage of the I/O tech has yet to turn into anything like a Springtime English drought flood. But, at long last, we have a bit of competition for locally-attached storage. Western Digital has released a RAID-capable Thunderbolt storage device that looks excellent value.
The Thunderbolt Duo comes with two Caviar Green 2TB drives which can be configured in a mirrored or striped RAID array, or as plain old JBOD, giving 4TB. By default they're RAID striped, and formatted with HFS+. Plug in the power adapter and you're away.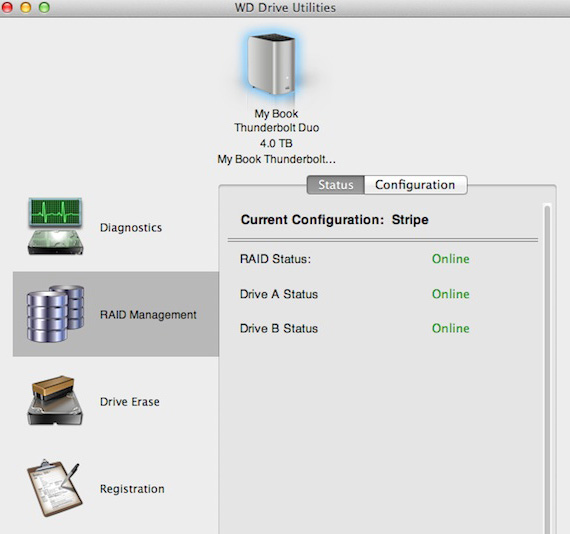 WD Drive Utilities handles the mirror, stripe and JBOD configuration options
Incidentally, the WD Drive Utilities features a S.M.A.R.T diagnostic self-test, plus a couple of error checking routines. With only one LED on the front panel – with various illumination and colour modes to remember to show the drive's condition – running the WD Drive Utilities gives a less cryptic status overview.
Anyone familiar with WD's two-disk NAS range will feel at home: it's the same case style. Including the nice pop-up lid, allowing easy access to the drives. These sit in a cage and can easily be pulled out, as with the NAS range.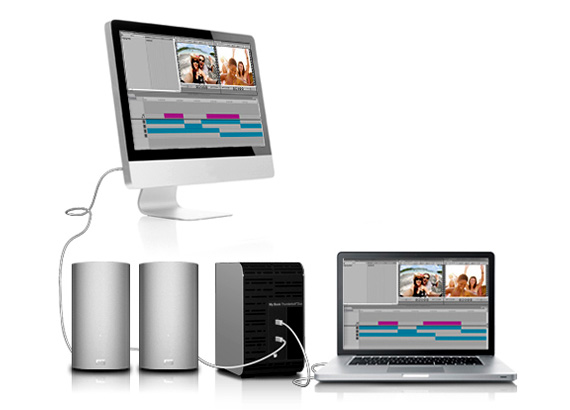 Chaining up multiple Thunderbolt devices looks impressive, but at around £40 a cable it gets expensive very quickly
Setting up Thunderbolt Duo was trivial - but buyers beware: the box doesn't include a Thunderbolt cable, and at £39, this isn't cheap. I took it for a spin in various combinations but also as an exFAT formatted disk running Windows 7 from a Boot Camp partition on the host Mac.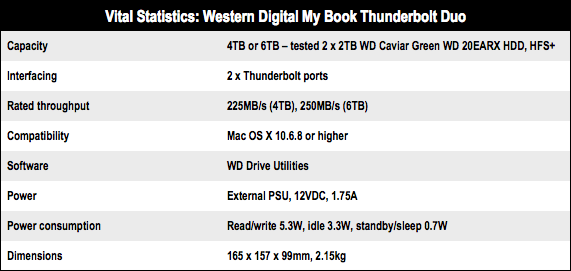 Sponsored: Becoming a Pragmatic Security Leader