Cisco, Citrix link arms for VDI partner push
Virty desktops are like ERP in the 1990s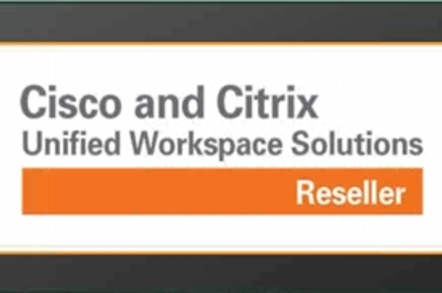 Citrix and Cisco are arch enemies in the online meeting racket, with their respective GoTo and WebEx online collaboration services, but they do agree on one thing: virtual desktop infrastructure is such a big market, and such a messy and complex sale, that they must cooperate to realize the potential revenue streams that can come to them both. If they don't mess this opportunity up.
They have both come to the conclusion that they are going to need more robust channel players, too.
Citrix is well known among corporations for server-side application virtualization, and has emerged as the dominant supplier of VDI back-ends with its XenDesktop Swiss army knife, which does many different kinds of virtualization related to PCs, including streaming apps or whole desktop images from servers in the data center to running PC images on bare-metal hypervisors on PCs that are based on Intel's vPro iron.
Cisco is the dominant switch maker in the data center, and is also a big player in the office with its unified communications gear and software. Significantly for its VDI effort, Cisco has designed its "California" Unified Computing System blade servers specifically to host heavily virtualized apps like hundreds or thousands of concurrent PC images.
Cisco and Citrix have been working together at the products level for more than two years, getting XenDesktop certified on Cisco iron and moving on to a more formal "Virtual Experience Infrastructure" or VXI partnership back in October 2011, mixing up Cisco thin clients, switches, servers, and WAN optimization software with Citrix VDI wares to provide a better "virtual workspace" for end users.
In February of this year, Cisco inked a reseller agreement with Citrix, giving Citrix and its vast channel partners the ability to peddle a complete VDI stack – provided they are certified on the whole stack, of course. (The deal was not exclusive, with Cisco being a very strong partner with EMC with its Vblock virty server stacks and with virtualization minion VMware with its ESXi hypervisor and View VDI tools as well.)
Now Cisco and Citrix want to go one step further with something they call the Partner Accelerator, which is a bunch of tools and a pile of cash to get a crack team of partners rushing into data centers to catch the Windows 7 desktop wave and virtualize it to the benefit of both companies while mashing up virty PCs, voice, and rich media so it can be streamed down to myriad devices.
Cynthia Gallant, vice president of worldwide channel strategy and market development at Citrix, tells El Reg that over 10 million seats in the public and private sectors worldwide have been converted from traditional PCs to virty ones, and cites statistics from Gartner that suggest that between 2012 and 2014 (inclusive) another 56 million corporate desktops will go virty.
The challenge – and the opportunity – is clear: with workforces going more mobile and end users working from an average of three different devices each day, CIOs are being hard-pressed to control access to applications and data in a consistent way while at the same time supporting PCs, smartphones, and tablets all at the same time.
"Right now, end users are taking things in their own hands," says Gallant. "There's lots of opportunity for partners, because in many cases these are greenfield VXI installations." But the long-term nature of the deals, which usually start out with a proof-of-concept with dozens to hundreds of seats and lots of babysitting on the part of the partners, makes it hard for the channel to take down the deals.
El Reg suggested to Gallant that the opportunity was much like the ERP wave back in the 1990s, when it suddenly became desirable to bring all of the applications to run a factory, a warehouse, and a back-end office with all of its myriad functions under the control of one master program.
The ERP effort was expensive, and you needed to calculate return on investment very thoroughly to make a sale, but you could convince CEOs and CIOs to do it because it freed them from having to write their own applications, and allowed them to duck the Y2K bugs lurking in their code. But the ROI calculations – however faulty they might have been – sealed the deals.
Partner Accelerator is about helping partners do a better job and hitting the numbers rather than exaggerating them. Cisco has a staggering 280,000 channel partners globally, and Citrix has 10,000 of its own, and there is a bit of overlap, of course. But even still, says Gallant, this is not even about trying to pump up several thousand partners, but rather to create several hundred suppliers that can take down big deals, do them right, and get VXI wares moving into data centers and onto desktops faster.
"This is to create a select group," says Gallant. "And we are putting in lots of money. This is not just another channel play."
How much money Cisco and Citrix are kicking in, neither company would say, but Brian Allison, director of worldwide channels at Cisco tells El Reg that this Partner Accelerator effort is one of the biggest channel investments either company is making. The idea, says Allison, is to build VXI practices at partners, give them the tools they need to compress the sales cycle, and give them the marketing, assessment, and proof-of-concept funding so they can find deals and get them into full virty desktop production faster.
The Partner Accelerator program for VXI includes what Cisco and Citrix call "learning maps," which is just another way of saying becoming familiar with all of the technology that goes into a VXI stack and then proving through certification that you know your stuff. Once you complete your courses, you are in line for sales leads that Cisco and Citrix have gathered up.
The vast majority of the coursework is available online, and the two companies will host quarterly "best practices" webinars with partners added to the program to keep them on the leading edge of VXI. Partners will be shown how to beef up their services offerings, since about 30 per cent of the total butcher's bill for a VXI installation is for services of one kind or another, according to the companies.
The companies have also created a crack team of Cisco and Citrix techies that are familiar with the hardware and software from both companies as it relates to VXI, and they are now working as a helpdesk for the VXI channel partners to help them plan, design, and implement VXI.
"We are going to put these partners up on a pedestal," says Allison, allowing them to use special "Unified Workspace Solutions" reseller branding and given them access to ROI tools as well as cash to fund assessment work and to help them cover the costs of proofs of concept for VXI before the big desktop orders coming in. ®