Lollipop Chainsaw
Cheerleader gets chopper out
Getting paid
Collecting coins is rendered much easier if you get the hang of Sparkle Hunting early on, that being the decapitation of three or more zombies with one blow. Your main method being to corral zombies using your pom-pom stun attack before administering the coup de grâce with the chainsaw.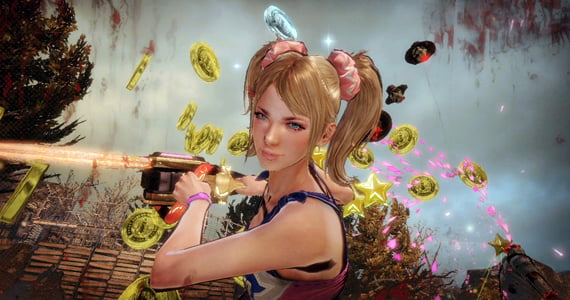 Golden shower
Things are made a tad easier if you build up and unleash Juliet's Star Meter – during which time Toni Basil's eternal cheerleading anthem Mickey plays incessantly – indicating you can massacre entire groups of zombies with one swipe, regardless of whether they're stunned or not.
It's a much-needed layer of depth to what is actually a fairly basic combat system and one which doesn't come close to the fluidity and grace of say Bayonetta's repertoire of attacks and counters. There's a sense of emphasis on simplicity regarding the game's difficulty too, with Juliet's dodge good enough to avoid most blows and lollipops liberally scattered throughout environments, thus ensuring that any damage she does take is soon healed.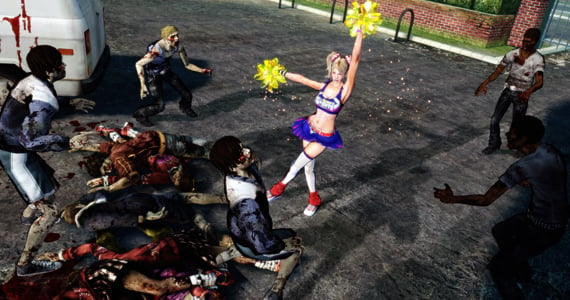 "Gimme an Argh"
Still, I have to admit that combat is never anything less than fun. There are enough nicely setup traps and encounters to keep you pushing on, while even QTEs feel natural. The trick here being that Juliet invites you to use the same combination of button presses to slice a particular door-type say, so that, after a few attempts, you know exactly how to quickly deal with that particular obstacle.
To carry on this feeling of fun and inventiveness the developers have also thrown a bunch of minigames in there – often including the head of the long suffering Nick. And while basketball, baseball or kill the flaming zombies might feel a tad contrived, they're yet another example of the team at Grasshopper trying its best to keep you entertained.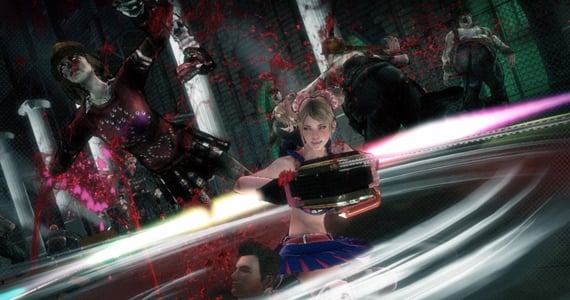 Roundhouse flick
Verdict
Suda51 might be something of a one-trick pony but then his is quite a trick. Lollipop Chainsaw doesn't look to create anything you won't have already witnessed in his existing stable of games, but what it does do is create an atmosphere that keeps you playing. And, most important of all, it puts a smile on your face... unless, that is, you happen to take particular offence at the sight of a fictional 18-year-old animated character in a skimpy outfit. Honestly, kids these days! ®
More Games Reviews

Ghost Recon:
Future Soldier
Max Payne
3
Diablo III
Prototype 2
Resident Evil:
Raccoon City

Lollipop Chainsaw
Teenage cheerleader grabs chainsaw, kills zombies. "Like... duh!" Available on Xbox 360 (tested) and PS3.