Super sushi-bot churns out 2,500 rolls an hour
NOM NOM NOM!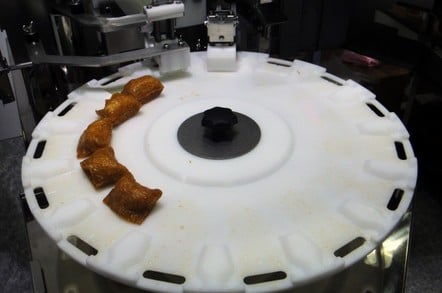 Japanese boffins have unveiled their latest engineering masterpiece, a six speed sushi-making robot that can churn out 2,500 pieces of the stuff in just an hour.
Sushi is big business in Japan and around the world, but the art of handmade rolls is sadly dying as the delicacy becomes ever more commoditised.
Ensuring that supply always meets demand is Suzumo Machinery, a company that has been dedicated to "spreading the rice eating culture to the world" for over 50 years.
Its latest contraption is specifically designed to churn out inari-sushi, that funny looking brown pouch-like morsel in your supermarket selection pack.
This veggie sushi, which is popular with kids in Japan, is made by stuffing sushi rice inside pre-fried tofu skin sheets – pretty fiddly work by hand.
With the new machine, the user needs only place the rice into the compartment above and it will do the rest, using patent pending double air nozzle technology to open the pesky tofu sheets, according to Japanese tech video site DigInfoTV.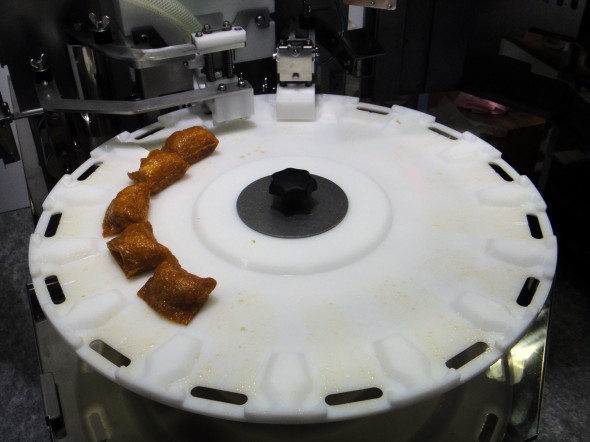 Sushi-bot!
It has six speeds, churning out anything from 1,200 to 2,500 pieces an hour.
"This works in a similar way to a syringe, the fried tofu skin is opened quickly once, and then more air is blown in so the rice can be inserted gently," said a Suzumo spokesperson.
He added that the machines can cope with multiple sizes of tofu pouch.
"You can set these sizes easily on the touch panel. Different sizes of tofu require different amounts of rice," he said.
"So, with previous machines, various parts had to be replaced. But with this robot, you can switch parts just by undoing a single screw, so you can make all kinds of Inari sushi with the same machine."
If you fancy investing in some cutting edge sushi tech, this little machine will set you back about $50,000 (£32,200), although there are many more to choose from on the Suzumo site, including devices to make nigiri, maki and gunkan sushi.
Itadakimasu! ®