Apple adds gay and lesbian icons to iOS 6 messaging
Let the "homosexual agenda" fear-mongering begin
Apple's next-generation mobile operating system, iOS 6, will include oh-so-cute 'n' cuddly gay and lesbian emoji couples for your texting and emailing enjoyment.
Not that there's anything wrong with that.
The two hand-holding couples are nestled among their heterosexual brothers and sisters – although, for reasons we at The Reg cannot divine, they do not possess the happy smiles adorning the faces of the girl-boy couple. Perhaps they are dismayed at the unequal treatment they receive from US federal tax code.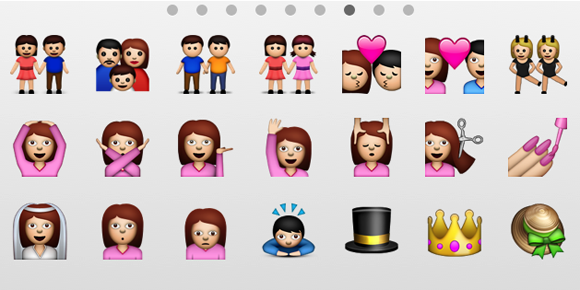 What? No over-60, overweight techie emoji? Your Reg reporter feels marginalized (source: TechCrunch)
Emojis, first popularized in Japan, are tiny icons used to spice up messages. Successors to emoticons – such as the ever-popular ;) said by some to have been invented by Abraham Lincoln – emojis were added to iOS in version 5, which debuted in a somewhat bumpy launch last October.
You'll have to wait for iOS 6 to get the gay and lesbian couple emojis, but if you want to explore those available on your iOS 5–equipped device today, navigate to Settings > General > Keyboard > Add New Keyboard, and select Emoji.
In the lower-left of your iPhone, iPad, or iPod touch's keyboard will appear a button with a globe icon. Tap that, and the available emojis will appear, from the traditional happy faces to cutesy piggies to graduation caps to hospital buildings.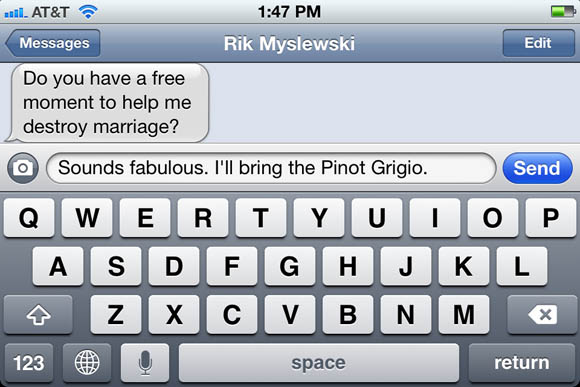 In addition to emojis, that globe-icon button can provide access to 55 additional languages
No mouthless gay and lesbian folks, though – for them, you'll have to wait until iOS 6 ships this fall. And when it does, we would not at all be surprised to hear of Apple-product boycotts by such anti-gay and -lesbian groups as the American Family Association, Family Research Council, Traditional Values Coalition, and the counterintuitively named Liberty Counsel – let alone from überwhackjob and publicity hound Fred Phelps of the Westboro Baptist Church (NSFSB*). ®
* Not Safe For Sentient Beings