Dell to focus on enterprises and cut $2bn in costs
Wall Street gets a divvy reward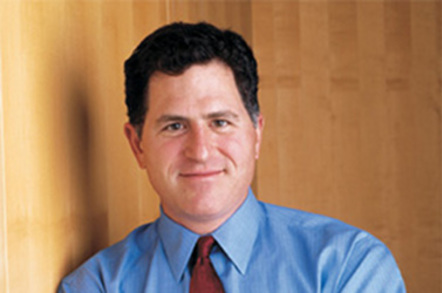 If you have Dell stock in your portfolio this week, your 401(k) is probably a little bit happier and healthier. The computer maker is to pony up some cash dividends, funded in part through aggressive cost cutting and a continuing expansion into enterprise IT and away from over-reliance on consumers.
Dell hosted its Wall Street analyst day in Austin, Texas, yesterday, going over a lot of the same ground that it went over back in April at an industry analyst meeting.
Dell, which has not coincidentally used a light blue logo, has been on an acquisition tear to buy up storage, switch, and systems software makers as well as Perot Systems a few years ago for services to bolster its position as an IT supplier to businesses of all sizes and across all geographies.
Because so much of the profit in the x86 business goes to Intel and Microsoft, this is about the only tactic Dell has as average selling prices for PCs plummet and tablets, dominated by Apple, eat into the PC business.
Dell cooked up this plan several years ago to set itself right, and that remains the plan looking out to Dell's fiscal 2016 several years hence.
The news ahead of the analyst day was that for the first time in its history, Dell will give a little cash-back reward to shareholders in the form of a dividend that weighs in at 32 cents per share per year. That's a dividend yield of about 2.7 per cent based on Dell's $11.86 share price ahead of the announcement, and based on the 1.76 billion shares outstanding, it will cost Dell $563m a year to pay out that dividend.
This is by no means a big dividend. IBM is now paying $3.40 per share per year after boosting its own cash payments to stockholders back in April; with IBM's current float, that works to more than $3.9bn in dividend payments in 2012.
Cisco first started giving a dividend last year, and raised it by 33 per cent to 8 cents per share in February, but with 5.36 billion shares outstanding,
Cisco is shelling out around $1.7bn in divvies. Microsoft pays 20 cents per share each quarter right now, or about $6.7bn, and Apple is getting ready to start paying a $2.65 per share quarterly dividend, or around $10.1bn per year, when it starts giving payola to shareholders in the fourth quarter of this year.
In the flow
Even with increased spending on research and development – which comes hand in wallet with wanting to own your own intellectual property – Dell figures it is generating enough cash to raise the target range of distribution of capital to shareholders from 10-to-35 per cent of free cash flow before the enterprise push to 20-to-35 per cent of free cash flow since the enterprise push and the institution of the divvy.</p
Dell generated $4.9bn in cash flow from operations in the first quarter of fiscal 2013 ended on May 4, even after getting a frightful haircut on revenues and profits. Revenues were down 5 per cent to $11.4bn in the quarter and net income was down 33 per cent to $635m.
Dell is not giving out a dividend now because business is so great, but rather because it was surprisingly tough but the company believes that it can get better.
Dell has made eight acquisitions in the past 12 months to bolster its presence in the data center, has doubled the number of engineers it has working on products, and has tripled the number of specialist sales people to 6,600 since its fiscal 2008 year, Dell founder and CEO Michael Dell explained at the event.
In the quarter ended, where it seems Dell slashed prices to push revenues, the company nonetheless pulled 31 per cent of revenues and 50 per cent of margins in the quarter from "enterprise solutions and services," and that is why Dell keeps trying to look like Big Blue for those on a budget.
Starting on the software
Dell CFO Brian Gladden said in a statement ahead of the analyst day event that Dell projected the enterprise solutions and services business to grow at a compound annual growth rate of 10 percent through fiscal 2016, four years from now.
"We're saying here today in FY16 greater than 8 per cent operating income and a $15bn business with 10 per cent growth over that period of time," Gladden said during the event, referring to the enterprise solutions segment, which includes servers, storage, and networking.
"When you think about software, we're really just getting started. Today when you look at the run-rate of the acquisitions that we have and the assets that are in the portfolio today, [that is] about a $400m business. We're saying with acquisition and organic growth that that can be a $2bn business or bigger, obviously a strong growth rate and good profitability. That should be higher profitability as we scale and make that a larger business."
The services business should grow at around 6 per cent annually to $10.5bn, and other elements of the enterprise stack will grow much faster, bringing the average up to 10 per cent growth over those four years. It was $8.3bn in fiscal 2012, up considerably from the $5bn Dell had back in fiscal 2008 before the Perot Systems acquisition.
The PC biz sure as hell won't see that kind of growth. In fact, Dell is projecting something on the order of 2 per cent over that term, compounded.
And that is why Dell will be making cost cuts, Gladden told Wall Street that Dell will cut $2bn in costs over the next three years so it can afford the R&D bill and still generate cash flow and pay dividends and do stock buybacks.
He said Dell was already working to lower its overhead costs and squeeze out more supply chain efficiencies and had already chopped $180m in operating expenses in the first quarter of fiscal 2013. About half of the cost cutting will come from the PC business, by reducing SKUs and the number of different components it buys, freight consolidation and optimization, and moving manufacturing into western China, among other things.
Dell did not talk about layoffs as a means to reduce costs, but as El Reg reported last month, Dell's UK operation is giving the sack to an unspecified number of employees. If Dell is truly going to be like IBM, then it will be constantly doing "workforce rebalancing" and unloading employees out the back door as it adds them through acquisitions in the front door.
Dell is not planning on exiting the PC business – or rather the broader "end user computing" business – and expects that portion of its business to grow to around $47bn by the end of fiscal 2016. Dell did $47.2bn in PC sales in fiscal 2008 and $43.4bn in fiscal 2012, by comparison.
Dell will probably continue to do acquisitions, having done 18 deals since fiscal 2008 for a combined $10.8bn in cash. Those companies generated $9.3bn collectively over the past three fiscal years, and the revenues streams across those companies have nearly doubled since they were acquired. ®