Sepaton: HP offers 'least capable' dedupe in the industry
HP begs to differ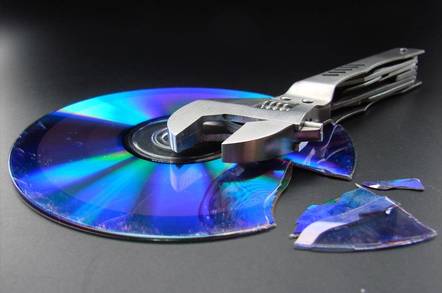 HP's Store Once Catalyst and B6200 hardware offers the "least capable" deduplication in the industry. That's according to Sepaton, which should know as HP resells its deduplicating array.
The Sepaton product in question is the ES2 S2100 8-node clustered globally deduplicating array – resold by HP – and we asked Sepaton for its views on the Store Once Catalyst/B6200 announcement and our review of it.
Sepaton's spokespeople had quite a lot to say.
Linda Mentzer, Sepaton's veep for product and program management, and Peter Quirk, product management director, said: "SEPATON completely agrees with the analysis and would also point out the following: the 100TB/hr is an absolute best case for subsequent generation backups and only for Data Protector which does not help with enterprise backup apps such as NBU, OST, TSM or NetWorker and is highly footnoted with caveats. SEPATON's ingest is totally deterministic and not dependent on backup application, data change rate, capacity usage of the system etc."
They added that:
Each [B6200] couplet is very limited in capacity. Usable capacity is 128TB but HP's best practices recommend no more than 50 per cent utilisation so backups of large enterprise class files or databases are not possible. SEPATON scales to 1.6PB usable. Configuring workloads for the B6200 is incredibly complex, given that one has to balance workloads across multiple nodes to ensure good throughput and effective utilisation of storage. SEPATON automatically load balances backups across all nodes and storage in the system.
They also asserted: "The HP B6200 offers the least capable dedupe in the industry. Each tape device on a B6200 is effectively a distinct dedupe domain. Backups sent to a one drive don't dedupe against backups sent to another drive on the same node! What happens when your backup exceeds the capability of one drive?
"HP makes no performance claims for database backups. It made no specific mention of Oracle RMAN support, nor did it respond to EMC's announcement of Data Domain BOOST for RMAN. Nor do the latest announcements speak of DB2 or SQL Server backup performance.
They also said that the B6200 had another limitation: "The B6200 cannot tolerate multiplexed input. This effectively removes it from competition with SEPATON when large enterprise databases need to backed up in the minimum time. SEPATON's new DeltaStor DBeXstream technology in the 6.1 release being announced tomorrow supports fast multi-stream, multiplexed database backups while delivering unprecedented deduplication rates through byte-level differential deduplication. HP's B6200 and Data Domain offerings continue to ask enterprises to choose between fast database backup or maximum capacity reduction."
A final point: "As with Data Domain's performance claims, the HP claims are for ingest and inline dedupe only. Housekeeping (aka, cleaning or space reclamation) and replication are best done when ingest is not occurring. Replication may even require dedicated nodes. SEPATON concurrently ingests, deduplicates, replicates and reclaims space automatically."
HP's views
Quite a blast merits quite a response. Sean Kenney, product marketing director for HP Storage, provided it: "HP stands by our StoreOnce B6200 system performance numbers... Partners were not involved in HP StoreOnce B6200 performance testing so it is unclear on what information they are basing their response."
Sepaton claimed: "Backups sent to a one drive don't dedupe against backups sent to another drive on the same node." Kenney disputes this: "Any emulated tape drive within a VTL completely deduplicates with all other tape drives in that VTL."
Another Sepaton criticism of the B6200 was: "The B6200 cannot tolerate multiplexed input. This effectively removes it from competition with SEPATON when large enterprise databases need to backed up in the minimum time."
Kenney replies: "HP StoreOnce B6200 is a terrific solution for database and multiplexed workloads. Dedupe ratios can be affected depending upon the data types including the block size of the multiplexing which can be controlled. Multiplexing only occurs when the backup happens via agents and a media server that is aggregating backup from these agents. Similarly, RMAN itself is not a backup application and we don't see much value in backing up Oracle outside of a backup application, giving up the backup application's catalogs and storage management advantages."
As for Sepaton's housekeeping point: "Housekeeping" improvements were part of the StoreOnce changes and can operate in parallel with backup operations."
StoreOnce/B6200 possibilities
Kenney added some information about the scaling possibilities of the B6200 and the way customers use it:
it is important to note that the B6200 is a single logical system built on an underlying clustering engine that is capable of scaling to over 1000 nodes and a 16PB single namespace.

The current configuration is split into 4 high availability couplets and exposed as 4 different pools in order to balance ingest performance and deduplication efficiency. Our enterprise customers routinely stream multiple backup jobs to different locations and have influenced the decision to follow a couplet based approach.

The StoreOnce Catalyst integration with backup applications allows all deduplication, backup, and replication to be managed directly from the backup application which dramatically simplifies backup compared to approaches that do not offer such integration.
What do we think of this? We think Sepaton and HP are in competition and using every tool at their disposal to beat each other. It also seems that dedupe suppliers outside HP generally do not give full credence to HP's single deduplication system claims for its Store Once Catalyst/B6200 products.
We also think that there is far more to come from the StoreOnce product line: a 1,000 node and 16PB namespace? We haven't seen anything yet. ®
Comments to this forum topic please.