Leaked Apple inventory list hints at new non-iOS hardware
Stay of execution for Mac Pro towers rumoured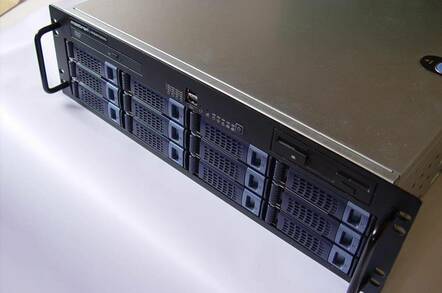 Sweat is pouring down fanbois' foreheads today: a leaked inventory list and a stock shortage have sparked rumours of a new Mac Pro emerging at Apple's World Wide Developers Conference.
The Mac Pro desktop tower was last refreshed in August 2010, and the top-specced model is a 12-core £4,083 ($4,999) beast. Such muscle power is well outside the requirements of Apple's slab-fondling, phone-stroking, Angry Birds-hurling user base, so it is feared the maker of iOS-powered gadgets might let its high-end desktop line die out. The Reg's Rik Myslewski noted that combined sales of the Mac Pro, Mac Mini and iMac - all traditional desktops - only contributed $6.4bn to the company's $108bn net sales last year.
However, a shortage of Mac Pro units (Mac Rumours found that only 5 out of 100 US Apple stores had the entry-level model available in store) and an inventory list sent to 9to5Mac suggest that there may be a new Mac Pro model on the way.
The list purportedly shows new fruity stock headed for sale in Australia. The list of order numbers do not seem to match any order numbers for current Apple products but are in the same format. 9to5 infers that the three numbers below show a new Mac Pro is on the way:
MD770X/A K5BPLUS,BETTER,BTR-AUS
MD771X/A K5BPLUS,BEST,BTR-AUS
MD772X/A K5BPLUS,ULTIMATE,BTR-AUS
The Reg knows that the current order number for the Mac Pro is MC915LL/A, but we cannot confirm that the Mac rumour mill's guess is right - or that the document is real. Other helpful whispers suggest that the Mac Pro will get an updated case, possibly featuring a 7-inch retina display screen. That sounds bonkers.
A separate spec sheet running wild on the internet seems to suggest a thinner, more expensive Macbook Pro with an Intel Ivy Bridge chip will be unveiled at WWDC. And other rumours suggest an update to the iMac and to the MacBook Air.
It's five days till the conference on 11 June, when we'll actually be able to find this stuff out, and won't have to keep staring at fuzzy JPGs of spreadsheets. ®