NetApp completes low-end revamp
Adds FlashPools; boosts channel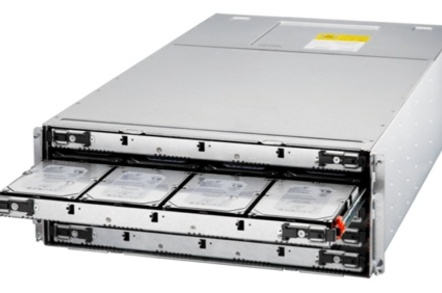 After revamping the big model of its entry-level FAS 2000 arrays last November NetApp has boosted the smaller model and introduced combined flash-disk storage volumes.
The FAS2220 slots in under the 2240 and its 432TB capacity, storing up to 180TB and starting at less than $8,000. It runs on the latest version of Data ONTAP, v8.1.1, and is cluster-ready, unlike the replaced FAS2020 (pdf). The 2220 supports Flash Pools, combined SAS and SATA disk and solid state drive (SSD) aggregates
The 2U form factor 2220 stores up to 180TB of data on 60 SAS and SATA drives, which can include some SSDs. The 2020 held up to 68TB of data on 68 drives. Clearly 1TB drives have been replaced by 3TB ones. The 2020 had 4 gigE ports; the 2220 has 8. The 2220 effectively replaces the 2040 array as well, having three times its performance.
The 2020 started at under $8,000 too and was for the value-oriented customer, as is the 2220. It used an FCAL connectivity method inside whereas the 2220 has 4 onboard SAS ports. The 2020 was not clusterable whereas the 2220 is.
NetApp is positioning the 2220 against EMC's VNXe, HP's P4000 and Dell EqualLogic arrays. It says the 2220 starts at a lower price and has "50 per cent lower capacity guaranteed."
Cheekily, although it doesn't offer tiering itself, the Virtual Storage Tier being a caching approach, it criticises the HP box for not having tiering and the Dell boxes for "inefficient auto-tiering."
The VNXe is said to have limited data reduction tools in contrast to the 2220's A-SIS deduplication. Compared to the 2220 NetApp claims all three competing products have limited management facilities. A 2220 admin person can "manage 2-3x more storage."
Lastly the 2240 upgrade path is all the way through the NetApp range to the FAS6000s and the 9PB 6280, whereas the competing products have limited upgradability.
NetApp is also updating its OneCommand management software to v2.1. It applies to all single node platforms and is wizard-driven.
Flash Pools
Both the 2220 and 2240 support Flash Pools. They extend NetApp's Virtual Storage Tier approach to the mid-market and enable customers to accelerate application performance. It claims; "NetApp is the only vendor offering this unique intelligent caching approach in the entry-level storage market."
A Flash Pool is specific to aggregates and caches both reads and writes; hot data being automatically copied into SSD, 100GB SSD, storage while staying on disk. There can up to 300GB of SSD per pair of controllers. A flash Pool has cached data persistence through failovers and is RAID-protected. All of NetApp's data protection and management technologies work with Flash Pools.
Flash Cache, flash caching for the array controller, is not supported by the FAS2000 arrays.
Flash Pool support is coming for the FAS3000s and 6000s. John Rollason, NetApp's EMEA solutions marketing head, said; "We envisage the 3000s and 6000s will have both Flash Cache and Flash Pools. You can mix and match at both the volume and aggregate level. … I/Os are either to Flash Cache or Flash Pools or neither. It's either or."
NetApp flash caching and tiering thoughts
Caching data on flash is called Virtual Storage Tiering by NetApp, but it is not actual tiering as a base copy of all cached data stays on disk.
Concerning flash, Rollason said; "We use SLC today. We are testing eMLC and TLC and expect to be able to support those within the Data ONTAP architecture as customer demand requires. There is development work ongoing concerning host-side caching. It will be software-led, not hardware-led, and no roadmap is available. He thinks array-side caching is more important than host-side caching and "it could well be a more open approach than the competition."
Automated placement of data on different storage tiers is not looked in favourably by NetApp, separating it pout from all other mainstream storage vendors. There are also no current plans to add compute to its arrays.
Rollason said that FlexPod reference architecture systems, the converged storage, server and network designs from NetApp and Cisco, are available as single orderable systems; "I wanted to point you to the solution we have announced with Avnet in the US: , and that we have similar plans coming for EMEA soon; details to be advised."
Data Protection as a service
NetApp sees a trend for its mid-market customers to backup to the cloud, using data protection-as-a-service (DPaaS) offered by service providers. It's working with some VARs to have them deliver DPaaS, providing disk-based recovery and second site failover capability and give customers OPEX-based low cost alternatives to running CAPEX-based equivalent services in their data centres, especially tape-based ones.
The company's "GetSuccessful Cloud Services Program" links NetApp VARS with cloud service providers in the NetApp ecosystem and provides support to help the VARs become cloud service VARs or even cloud service providers in their own right.
The FAS2220 will start at under $8,000 (6,000 Euros) and be available on June 12 through NetApp's channel network. ®
Sponsored: Detecting cyber attacks as a small to medium business