NTT demos double-sided see-through smartphone
Fujitsu-made handset has transparent appeal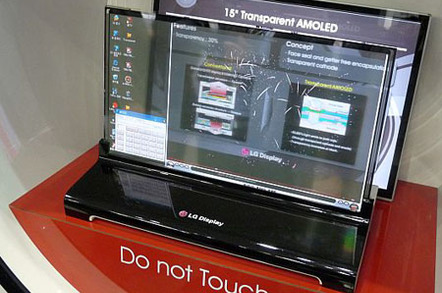 Japanese mobile operator NTT DoCoMo and computing giant Fujitsu gave smartphone fans a glimpse into the future of mobile computing at this year's Wireless Japan show, demoing a prototype Android device with a transparent, double-sided touchscreen interface.
The as-yet-unnamed device features a petite 2.4in, 320x240 QVGA display which users can operate from both sides of the screen, enabling actions such as scrolling through pages or sliding down the message bar without blocking the screen with their hand.
During a video demonstration (see below) on Tokyo-based tech video site DigInfo TV, DoCoMo spokesman Masashi Tagaya demonstrated how users could manipulate a virtual Rubik's cube by holding down one part of the cube on the rear panel and moving another on the front, making "gripping operations possible" for the first time.
Tagaya concedes there is still some work to do to improve screen size and brightness, but even in this form feels it "could be used as a sub-display. In that case, it will have a limited display capability, so we think the range of applications could be wider."
"Compared with a standard smartphone, this one still has slightly low brightness, so it's a bit hard to view in bright places. We'd like to improve the technology to overcome things like that."
Although there's no release date on the device, it's pretty safe to say NTT and Fujitsu have done their best to upstage anything coming out of Asia's largest IT expo Computex this week.
Not many new developments in the technology industry can genuinely be described as revolutionary any more, but this innovative design could represent a big leap forward for the smartphone user interface.
The two firms involved now have to really knuckle down and focus efforts on getting a commercially viable handset out before a Chinese rival miraculously produces something identical for half the price, possibly using the transparent OLEDs we reported on back in 2009. ®