IBM strides along the storage edge
Compresses data and manage storage better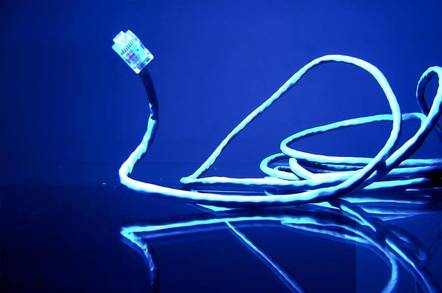 IBM has at last added compression to its Storwize V7000 product and made a raft of storage announcements at its EDGE event in Florida today.
The overall aims are to increase storage efficiency and simplify management so that customers can store and manage more data. It has branded these storage initiatives Smarter Storage, tying in with its Smarter Planet concept.
IBM bought Storwize in July 2010 for its real-time compression technology. However, the Storwize V7000 array introduced by IBM in October that year did not include the compression technology. It did use IBM's SAN Volume Controller (SVC) code stack which included deduplication, thin-provisioning, virtualisation and data protection features.
Now, almost two years later, the Storwize compression technology has made it into the Storwize V7000 product, and has been added to the SVC too. For the V7000 it can shrink data by up to 80 per cent, effectively increasing capacity fivefold.
At the same time it has upped V7000 clustering from 2-way to 4-way, increasing capacity to 1.4PB spread across 960 drives. The 5X capacity increase from compression means that the effective capacity could be as high as 7PB.
In other IBM storage news today the DS3500 small and medium enterprise array and DCS3700 high-perfirmance computing array get enhanced "FlashCopy capabilities that result in 50 per cent more snapshots … and thin provisioning." Tgat means data protection granularity is increased and storage effectiveness increased also.
Not forgetting tape
IBM has improved tape system management and made admins more effective.
Tape System Library Manager (TSLM) is new software that expands and can simplify the use of IBM TS3500 tape libraries by providing a single pane of glass view of multiple libraries. TSLM works with multiple generations of enterprise and LTO-based drives and media to store data in a tape pool that can be managed from a central point through IBM Tivoli Storage Manager. This simplifies the management of different tape "silos" and brings them into one pool.
The Linear Tape File System (LTFS) partitions LTO-5 tape such that a file system index is maintained in one partition and data in the other. Files can be dragged and dropped onto a tape icon in a GUI in the same way as with disk-based folders.
The Linear Tape File System (LTFS) Storage Manager is new software that provides lifecycle management of multimedia files, such as large video files, to customers using IBM LTO-5 tape libraries and IBM's LTFS Library Edition. IBM says video archive licensing costs and video tape cartridge costs "can be dramatically lowered" with this software.
There's more
IBM storage announcements today also include:
Easy Tier automatically moves data to the most appropriate storage tier in an array, choosing from multiple tiers of disk and SSD, based on policy and activity level. Typically hot data is moved into faster tiers of storage like SSDs. But servers accessing that data still suffer network latency.
Big Blue plans to extend its IBM Easy Tier capabilities tier data between its arrays and direct-attached, server-based SSDs. This means hot data can automatically move from the array to a server's local SSD and so be accessed at flash speeds with no network latency at all, accelerating application execution significantly.
IBM has given Tivoli Storage Productivity Center (TPC) a web-based user interface and integration with Cognos to produce ad hoc and customised reports. It offers "simplified packaging that provides comprehensive management, discovery, configuration, performance and replication in a single license."

The General Parallel File System (GPFS) now includes Active File Management (AFM) asynchronous replication software to provide fast, trusted access to GPFS unstructured data in remote sites.
An Intelligent Storage Service Catalog (ISSC) "improves the way storage is used by simplifying how it is requested. ISSC promotes more efficient storage allocation and governance by establishing standards that can be used to optimise provisioning, backup, replication and archiving."
Finally, IBM has introduced SmartCloud services - everything tends to be branded "Smart" in big blue these days - for storage "provides support for … IBM SmartCloud Managed Backup, IBM SmartCloud Archive, and IBM SmartCloud Object Storage, which improve data backup, resiliency and management of massive quantities of unstructured data from a cloud environment." ®