LucasArts unveils Star Wars game for grown-ups
Bounty be popular
LucasArts announced its latest videogame this week, Star Wars 1313, which pushes the franchise towards a more mature audience with its proposed 18-certificate rating.
The game - announced through Spike's Game Trailers TV Show last night - is said to be a third person action adventure set in a ruthless criminal underworld on the planet Coruscant.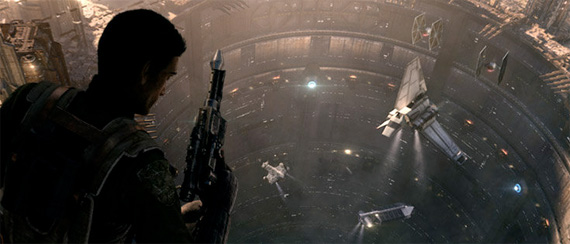 The focus will be on fast-paced action, cover-based combat and playable cinematic gameplay, as players take control of a ruthless bounty hunter, who tracks down his targets and uncovers the truth surrounding a criminal conspiracy.
"Star Wars 1313 dives into a part of the Star Wars mythos that we've always known existed, but never had a chance to visit," said LucasArts' president, Paul Meegan.
We'll reserve judgement for the official reveal, which will happen sometime at the E3 2012 games industry show next week.
It surely has to be better than the painstakingly tiresome Kinect Star Wars, though, even if the connection to the Lucas films is slim, at best.
Either way, it's another one for the stack of Star Wars-themed games that are piling up almost as quick as the notes in George Lucas's bank vault. ®
Sponsored: Detecting cyber attacks as a small to medium business